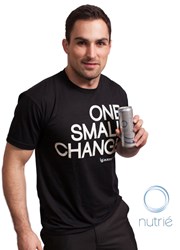 "I was instantly hooked after being introduced to the big three products from Nutrie."-- Sheldon Westcott
Scottsdale, Arizona (PRWEB) February 13, 2014
"I was instantly hooked after being introduced to the big three products from Nutrie," stated Westcott. "I knew this company and their products were something I wanted to associated with and bring into my life. I can't endorse a product that I don't believe in, and from the first time I tried Fuel, Skinne, and Energe, I noticed a difference in myself and my body. I knew this product really worked and can help people make a major change in their health, their appearance and their entire life. With a product that I truly believe in, I want to be the athletic face of this company. I know I have my work cut out for me… but when people think of Nutrie or Automatic Body, I want them to think of me!"
Westcott is a former national track and field competitor, who made a transition into jujitsu after a knee injury forced him to take time off from the decathlon event. Training for three years at the jujitsu club, Westcott began competing in tournaments and in 2007 he made his professional MMA debut against former TFC champion Victor Bachman. Although he lost his pro first fight, he has since gone without a loss, finishing four opponents in the very first minute and five in the first round.
Westcott is cast in the FOX reality TV series: The Ultimate Fighter Nations: Canada vs Australia, which debuted on January 15, 2014.
Sheldon recently attended the Nutrie Texas Takeover Regional Event in Dallas, Texas, where he went on stage as part of the Nutrie Athletes presentation, hosted by Nutrie President Aaron Parkinson. Westcott joined fellow Nutrie sponsors, including former NFL fullback Lorenzo Neal, MMA bantam weight Marlon Moraes, and boxer Jelena Mrdjenovich. After the presentation, Sheldon also mingled with the guests, signed autographs, and took pictures with fans.
The entire Nutrié family is thrilled to have Sheldon on board and proud that the Automatic Body brand will showcased through Westcott's athleticism. Nutrié President Aaron Parkinson says, "I've always been a fan of MMA and it gives me a lot of pride bringing athletes of Sheldon's caliber on to the team. We are getting bigger and bigger because we have a great product. The demand is there."
About Nutrié:
Founded in 2012 with headquarters in Scottsdale, Arizona, Nutrie is a health and wellness company that develops and markets products and programs for consumers to meet their health goals. The company is privately held.
The weight loss results and other health related experiences are not typical, are self-reported, and are applicable only to the individual(s) and do not reflect the results that a customer may achieve. Please see Nutrié's Health Disclaimer located at http://www.nutrie.com for more details.