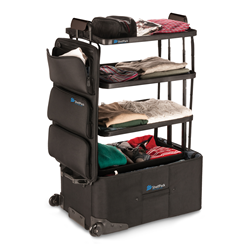 ShelfPack is the biggest innovation in suitcases since rolling luggage.
Santa Barbara, CA (PRWEB) July 28, 2015
ShelfPack revolutionizes packing for a trip. Fill the shelves and pockets with gear then drop the shelves and supports into the case and zip it shut. At the destination, unzip, raise the supports and hang the shelves. Everything is visible and easy to get at- there is no need to unpack!
It's a portable closet! The shelves are just like a cabinet, and the 3 front pockets are like dresser drawers.
The idea came from career software engineer Ken McKaba after a long frustrating business trip with repeated unpacking, repacking and rummaging. He tinkered and prototyped and tested and came up with the unique, patent-pending design. The first ShelfPack units have been manufactured and are now in transit and will ship to customers in August. The retail price (MSRP) is $350.
The ShelfPack Kickstarter campaign, continuing through August 19, offers early delivery of the first units at a significant discount. The campaign reached its goal in only 3 days and promises to be a runaway success.
"I've been overwhelmed with the response to the ShelfPack at every step of the way," McKaba said. "People 'get it' with just a glance. I'm thrilled to get the big industry award and was unprepared for the flood of interest it's gotten."
Links:
ShelfPack on the web
ShelfPack Kickstarter campaign
Hi-res promotional images