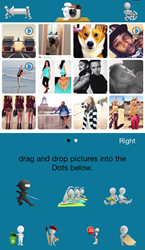 Shelfy is the boost Instagram was waiting for, and the twist the fans have been searching for.
Nashville, TN (PRWEB) April 10, 2014
In a recent article, Facebook is reported to have seen a mass exodus of its younger users due to various reasons. BadApp Studios recognized this early on and focused on one of the areas that is gaining momentum, Instagram. BadApp Studios began to develop an alternative to using the standard Instagram app to give the younger generation even more reason to remain loyal.
Shelfy for Instagram is their latest app being released on the app store sometime before the weekend. The Shelfy concept is simple. The app allows users to navigate just as if they were operating within the Instagram app, allowing the users to like, repost, favorite, and follow other users and their photos.
Here is the key difference between Shelfy for Instagram and all of the other similar apps, Instagram included. Shelfy allows users to save any and all of the photos they desire, and there are tiny little people within the app that take care of tasks such as saving particular groups of photos. They act as watchdogs for the folders that the users create.
The Shelfy figures are intertwined throughout the app guiding the user to the places they wish to go. You can activate the photo editor by tickling the tiny artist Shelfy, or you can search for any hashtag or username by nudging the Shelfy holding the search binoculars. There are 50 Shelfys that the user can select from to put into place watching over their saved photos ranging from Cowboy Shelfys to Ninja Shelfys.
The concept is a new and unique way to energize the Instagram experience. Based on the declining numbers that are being reported for Instagram, any shot in the arm should help to boost the numbers and help to stabilize the Instagram user base.
The concept is not limited to just instagram. BadApp Studios has also scheduled the release of Shelfy for Snapchat for tomorrow, April the 10th. Shelfy for Snapchat will be exactly the same from a basic functionality standpoint, allowing users full Snapchat functionality and providing screenshot saves, photo editing , reply to sender and support for Snapchat stories. Both apps will be available for universal support of iPad and iPhone and will be listed in the Social Networking category of the App Store.
BadApp Studios is based in Nashville, TN and has been committed to developing apps that are designed to preserve device memory and keep the native camera roll free of downloaded photos coming from other apps. BadApp Studios currently manages Snap Vault for Snapchat, as well as the recently released, SnapBase for Snapchat and InstaDots for Instagram. Shelfy for Snapchat and Shelfy for Instagram are the latest creation for Bad App.