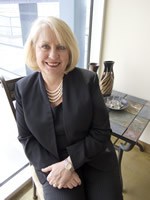 Share your voice with me; share your voice with our leadership, and create our message for Washington.
Tucson, AZ (PRWEB) August 09, 2013
Shelley Kais, President of Kais E Systems, Inc. of Tucson, Arizona announced that she is forming an exploratory committee in consideration of a possible U.S. House of Representatives Republican campaign. Kais, a small business owner and educator, sees "testing the waters" as a conversation with Southern Arizona and an opportunity to mobilize people and communities.
Congressman Ron Barber (D) is currently in his first full year in office after being sworn in on January 3, 2013. The Congressional District includes communities in Pima County and Cochise County.
Shelley stated, "The strength of Southern Arizona rests in our individuals and our communities." Drawing people into the conversation and the decision-making builds vibrant communities. "I believe our Representative should carry our voice to Washington, my emphasis is on 'our voice', the voice of the people," said Kais, and Engaging Southern Arizona brings that voice to the forefront. "I am testing the waters and asking you to share your voice with me; share your voice with our leadership, and create our message for Washington."
Mrs. Kais has been a consultant and educator since 1989 at Kais E Systems, Inc. serving in all the cabinet level agencies in Washington DC and throughout the United States, Japan, Germany, Italy, Romania, Panama, and Thailand. Shelley's students and clients recognize her ability to assess situations and develop solutions to complex issues. Her innovative solutions have improved organizational performance throughout private and public sector workforces.
Engaging Southern Arizona is an extension of what Shelley believes in and has practiced throughout her career: empowering people and increasing individual participation.
A resident of Sahuarita, Arizona, Shelley has developed a deep sense of community connection within Southern Arizona and invites you to Join the Conversation at http://www.shelleykais.com/.