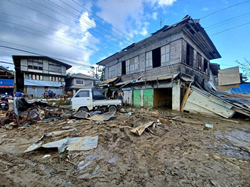 Kerri Murray, President of ShelterBox USA - "The devastating typhoon has left hundreds of thousands of Filipinos homeless and vulnerable to COVID-19 during the holidays. We are committed to doing everything possible to ensure no family is left without shelter in the aftermath of Typhoon Rai."
SANTA BARBARA, Calif. (PRWEB) December 20, 2021
ShelterBox is responding to Super Typhoon Rai which made landfall on Dec. 16th, killing at least 375 people and displacing hundreds of thousands more. ShelterBox is preparing emergency shelter, solar lights, water purification units, and other essential items to support communities devastated by the disaster. Known locally as Odette, the super typhoon is the strongest storm to hit the country this year. Thanks to the organization's local warehouse and pre-positioned emergency shelter aid in Cebu, ShelterBox is uniquely positioned to respond to widespread disaster related displacement in the Philippines.
With gusts of up to 150 mph, the typhoon was the equivalent of a Category 5 hurricane and one of the most severe storms in the world this year. The storm has displaced more than 631,000 people and affected areas where many live in extreme poverty. Initial reports suggest 55,000 houses have been damaged or destroyed. The deadly and severe winds knocked down trees and walls and caused flash flooding and landslides. Some central provinces have been left without power, food, water or means of communication. Fuel shortages and COVID-19 travel restrictions will make relief efforts more challenging.
Many displaced by the typhoon are taking refuge in collective centers and urgently need emergency shelter and supplies to protect themselves from COVID-19. Safe drinking water is also needed as the typhoon damaged several water sources.
ShelterBox has responded to disasters in the Philippines 28 times: more frequently than any other country in the organization's history. Because of this, ShelterBox established an operations warehouse in centrally located Cebu, stocked with emergency shelter materials and non-food items, such as water containers and solar lights. ShelterBox was registered in the country as a local NGO in 2017 and welcomed its first local staff members in January 2019.
"ShelterBox is mobilizing to assist communities affected by Super Typhoon Rai. We are conducting rapid needs assessments to provide immediate relief to displaced families who are now vulnerable to the latest wave of the COVID-19 pandemic," said Kerri Murray, President of ShelterBox USA. "The devastating typhoon has left hundreds of thousands homeless during the holidays. We will be responding with emergency shelter to help Filipinos whose homes were destroyed by the storm. The ShelterBox Operations Philippines warehouse was established precisely for disasters like Typhoon Rai. Our in-country staff and local warehouse allow us to respond in the most effective and efficient way possible, enabling the timely deployment of emergency aid. We are committed to doing everything possible to ensure no family is left without shelter in the aftermath of Typhoon Rai as the country prepares for more impending storms."
To find out more about the relief effort and how to help as families start to rebuild their homes, visit the ShelterBox website – http://www.ShelterBoxUSA.org
About ShelterBox
ShelterBox is a global disaster relief charity with affiliate offices across Europe, Africa, North America and Asia focused on emergency shelter. Since 2000, ShelterBox has provided shelter, warmth, and hope to more than 2.3 million people following 300 disasters in over 100 countries. ShelterBox works to serve the worlds most vulnerable people around the world who have been forced from their homes due to disasters, conflict, or by the consequences of climate change by delivering essential shelter aid and life-saving supplies. ShelterBox's core aid items include a disaster relief tent for an extended family, blankets, a water filtration system, emergency lighting, and other tools for survival. ShelterBox USA is based in Santa Barbara, California. ShelterBox USA was nominated for the Nobel Peace Prize in 2018 and 2019.
ShelterBox is an official Project Partner of Rotary International. Tax-deductible donations to the organization can be made at http://www.ShelterBoxUSA.org or by calling (805) 608-2400.