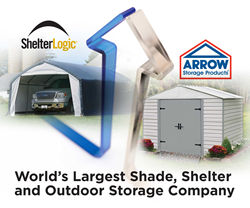 The acquisition adds to the breadth of product offering and allows us to strengthen and develop further the category of sheltering/storage for our retail partners and our customers. Robert Silinski, President
(PRWEB) December 15, 2015
The product offering of Arrow's metal shed business compliments the vast assortment of ShelterLogic's fabric covered shelters and shade products. The many synergies between the companies in both core products and personnel expertise in the outdoor storage market will allow for a stronger and more capable organization.
With over 50 years of operation, Arrow is the market leader in the design, manufacture, sourcing, and marketing of DIY outdoor steel storage solutions. As a global leader in steel consumer storage, production/distribution facilities are located in North America – Breese, IL, Haskell, NJ, Fontana, CA – as well as international sales management representation throughout North America, Europe and South America.
ShelterLogic is excited to add to its existing team new engineers, sales, marketing, operations and distribution, and senior managers to further strengthen the company. Innovation will be a key strategic driving force in the coming year as well as a focus on expansion into emerging markets where huge potential exists.
"The addition of Arrow Sheds to our portfolio was an easy decision because of the strategic fit with both brands." - James Raymond, CEO
ShelterLogic manufactures and distributes products throughout the world including Europe, Russia, South Africa, Australia, Canada and Mexico. As the recognized global leader of engineered shelters, we continue to lead the industry with innovation and the widest selection of shelter solutions.
For more information on ShelterLogic, our products, or to contact us with questions please visit shelterlogic.com or call 1-800-932-9344.