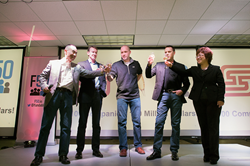 SAN FRANCISCO, CA (PRWEB) March 04, 2015
ShengJing Group, a Beijing-based fund of funds, has officially launched its North American zone for the Global Innovation Awards (GIA), in conjunction with the fifth season of F50, a Silicon Valley based private co-investment network.
The ShengJing Global Innovation Awards will be an unprecedented landmark in the startup investment ecosystem with $1.5M USD in cash awards, $15M USD in guaranteed investment and a $150M USD total intended investment.
20 pre-series A startups from around the world will be selected from a wide range of sectors via investor nomination, partner referral or the startup draft which is open to the public. Applicants in North America can be considered for the Global Innovation Awards by applying to F50 Season 5.
ShengJing plans to connect innovative companies in Silicon Valley and North America with capital from China's emerging public sector as well as the venture industry.
"We believe capital support is the best way for Silicon Valley companies to go global. We would like to be part of this new global trend," said Sherrie Wang, Senior Partner of ShengJing Group.
"We're proud to be partnering with ShengJing Group to highlight entrepreneurship in a big way. We are launching our most ambitious startup search to date in tandem with the Global Innovation Awards, and we're excited to see what amazing startups emerge as a result," said Martin Stroka, co-founder of F50.
The top 20 global winners will have the opportunity to fly to Beijing for the award final and will each receive investment offers ranging from $200K-$300K. The top 10 will all receive cash awards, with $1M reserved for the top one to three startups.
The final awards will be presented in August 2015 during the International Startup Festival in Beijing, China. Additional information can be found at http://f50.io/gia.
####
About ShengJing
ShengJing Group is a Beijing-based fund of funds which deploys strategic capital from China to top venture firms around the globe.
ShengJing is supporting innovative companies through its Global Innovation Awards, a worldwide competition designed to assist promising startups in raising capital and highlighting its friends in the venture capital industry. ShengJing Capital is the US investment arm of ShengJing Group.
About F50
F50 is a private co-investment network that connects startups with a global community of professional and strategic investors. For more information, please visit http://www.f50.io.