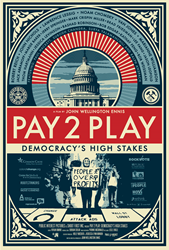 This film isn't about Occupy Wall Street—it's about what Occupy Wall Street was about.
Hollywood, CA (PRWEB) May 01, 2014
The artwork for the forthcoming documentary PAY 2 PLAY: Democracy's High Stakes was released today, designed by legendary street artist and outspoken advocate against money in politics, Shepard Fairey, of Obama HOPE poster fame. This lithograph just won an industry trade association award for Best Art Poster presented to Primary Colors Printers in El Segundo, CA. Besides the movie poster for PAY 2 PLAY, Shepard's Fairey's artwork is included in the film, both as original elements in motion graphics as well his street art.
The film poster features a photo taken on May Day 2012 in Downtown Los Angeles of an Anonymous mask-wearer holding a sign "PEOPLE OVER PROFITS" while standing on top of a huge monopoly board that was created and unfurled for the filming of PAY 2 PLAY. Beyond the Guy Fawkes imagery, director John Wellington Ennis stresses that the film isn't simply an Occupy story, it depicts the larger cycle of pay-to-play politics and how citizens are using their voice to fight for democracy: "This film isn't about Occupy Wall Street—it's about what Occupy Wall Street was about."
In PAY 2 PLAY, John Wellington Ennis pieces together the cycle of pay-to-play politics that rules America. When insiders control the game, how can an outsider have a voice? While following first-time candidates in the swing state of Ohio, Ennis uncovers a secret network of corporate money in our elections, and ultimately discovers solutions along his surprising journey. This political film broadens its appeal by interweaving the secret history of Monopoly as well as the illegal exploits of street artists determined to use their voice in a landscape dominated by corporate speech in the form of billboards, bus ads, benches, bus shelters.
Appearing in PAY 2 PLAY are Robert Reich, John Nichols, Lawrence Lessig, Noam Chomsky, Van Jones, Marianne Williamson, Jack Abramoff, Marge Baker, Jerry Springer, Mark Crispin Miller, Brad Friedman, Lee Fang, Jason Leopold, Thom Hartmann, Jessica Levinson, Rashad Robinson, Bob Edgar, Kathay Feng, Rob Weissman. Partner organizations appearing on the poster include Common Cause, Color of Change, Center for Media and Democracy, Rootstrikers, Move to Amend, Rebuild the Dream, Represent.US, Rock the Vote, Public Campaign, Public Citizen, Free Speech For People, Money Out Voters In, ReThink Media, and Global Exchange. The poster has a limited run for licensing purposes, with a few hundred prints available exclusively through the PAY 2 PLAY Kickstarter Telethon, going toward the release of the film.
The PAY 2 PLAY Kickstarter Telethon: In the spirit of the 70's & 80's telethons where celebrities performed their hearts out for a good cause, the new organizing platform http://pay2play.nationbuilder.com is going live for 30 days with a new short video every day, from short docs on street artists, to 70's satires, to lively interviews with partner orgs in the fight to #GetMoneyOut of our political process, all toward reaching the financial goal of $50,000.
The first short released today focuses on prominent L.A. street artist TEACHER, whose messages supporting public education have been seen all over town. Teacher is seen in PAY 2 PLAY creating the massive May Day Monopoly Board, fabricating it out of used billboard vinyl, and helping take over an intersection of Downtown Los Angeles on May 1, 2012, as seen in the film's climax.
A new book is being released as well with this campaign: a street art photo journal by director John Wellington Ennis comprised of interviews with street artists conducted during the making of PAY 2 PLAY, along with action shots of the artists at work. Where Else But The Streets covers a particularly vibrant period for street art in Los Angeles, from 2010 through 2012, when the cult success of the doc Exit Through The Gift Shop inspired and divided an already contentious scene, while a MOCA retrospective brought the top street artists from all over the world to Los Angeles. Artists featured in the book include OBEY GIANT (Shepard Fairey), Alec Monopoly, Free Humanity, LydiaEmily, Teacher, Mr. Brainwash, Banksy, and more. The book, like the movie poster, is only available through the PAY 2 PLAY Kickstarter Telethon.
Shepard Fairey also designed the poster for The 28th Amendment National Roadshow, which just kicked off this past week in Berkley and in Los Angeles at the UCLA Law School. Featuring speakers, panels, screenings of PAY 2 PLAY, and more, the 28th Amendment National Roadshow brings people together for local change toward passage of a Constitutional Amendment to overturn Citizens United, affirming that Money is Not Speech and Corporations Are Not People.
This past weekend's speakers included Cenk Uygur, whose TYT Network live-streamed the event, with Jeff Clements from Free Speech For People, and law professor Jessica Levinson. Upcoming Roadshow events this weekend in Seattle May 3rd and Portland May 4th will feature John Nichols of The Nation and MSNBC's The Ed Show. (Find out more about the Roadshow at http://www.moneyoutvotersin.org/28th_amendment_national_roadshow.)