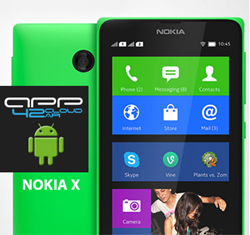 (PRWEB) April 16, 2014
App42 BaaS (Backend as a service) from ShepHertz , has added Nokia X to its list of supported mobile platforms. This allows developers to use backend services such as User Management, Push notifications, Leaderboards etc. from their Apps targeted for the newly released Nokia X phones. App42 already supports the largest set of Technologies and Platforms e.g. iOS, Android, WP8, Unity, Marmalade, Cocos2dx, Flash etc.
The Nokia X has generated huge interest in the market. As a result developers have already started working on Apps targeted for this phone and trying to port their existing Android Apps. Nokia has also been hosting several Portathon events to help developers get started.
With this launch, ShepHertz empowers developers to leverage its complete backend services in their Nokia X apps. This also includes the support for it popular cross-platform push notifications. This service allows developers to send and receive push notifications across different mobile platforms. It is a vital tool for app developers in making the end-users more engaged to their applications and is one of the most heavily used backend services.
Developers can learn more about the integration with App42 backend on Nokia X and get started by visiting the Nokia X integration page on ShepHertz website.
About ShepHertz
ShepHertz is a Cloud Ecosystem Provider for Apps i.e. Mobile, Web, Social, Gaming and TV Apps. ShepHertz' endeavour is to make App developers successful on the Cloud, irrespective of the technology or platform on which they are developing. Their product line provides one-stop-shop ecosystem for developing Apps on the Cloud. Their Product line consists of App42 Cloud API – BaaS (Backend as a Service), AppWarp- Multiplayer Gaming Engine, App42 PaaS with App42 BPaaS & GPaaS solutions.