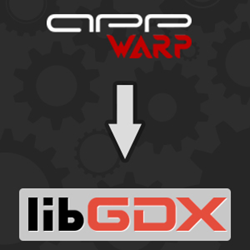 (PRWEB) March 26, 2014
AppWarp - A multiplayer game development solution from ShepHertz now supports libGDX, allowing developers to add real-time multiplayer modes to their games built using libGDX.
libGDX is a popular cross-platform Java game development framework and has a large and active developer community. The benefit of using libGDX for developers is that it allows them to code completely in Java and build games that can run on Android, iOS, Blackberry, desktop, Mac etc. So instead of having to code, build and maintain for each target platform, developers need only code and debug on the desktop environment. Once ready, they can simply build for different platforms using the tools provided by libGDX.
With this release, the libGDX community can now leverage the capabilities of AppWarp and easily add multiplayer capabilities in their games. The AppWarp SDK abstracts developers from all low level socket programming details and exposes high level features such as rooms, lobbies and matchmaking.
A great way to get started for developers is to check out the tutorial available on AppWarp's website.
About ShepHertz
ShepHertz is a Cloud Ecosystem Provider for Apps i.e. Mobile, Web, Social, Gaming and TV Apps. ShepHertz' endeavour is to make App developers successful on the Cloud, irrespective of the technology or platform on which they are developing. Their product line provides one-stop-shop ecosystem for developing Apps on the Cloud. Their Product line consists of App42 Cloud API – BaaS (Backend as a Service), AppWarp- Multiplayer Gaming Engine, App42 PaaS with App42 BPaaS & GPaaS solutions.