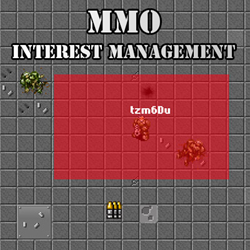 (PRWEB) May 01, 2014
AppWarp S2 Real-time Multiplayer game server from ShepHertz has released its Interest Management kit for MMO games. The kit contains complete ready to use source code that developers can extend and modify according to their game scenario.
Building MMO (Massively Multiplayer Online) games is a challenging task. One of the challenges in such games is handling the high number of messages they generate. This is unique to MMOs because all the players that are concurrently connected (CCUs) to the game can potentially interact with each other. This leads to exponential increase in the number of messages as the number of players increase.
This exponential increase not only creates load on the network and the server, but also processing so many messages on the game clients is unmanageable. The AppWarp S2 Interest Management kit helps developers solve this problem by segregating the players from each other based on their location and thus reduce the number of messages to a more manageable amount.
AppWarp S2 was launched earlier this year from Shephertz and has generated a lot of interest in the multiplayer developer community. A great way for developers to get started with the kit is to visit the Interest Management guide on the AppWarp S2 website.
About ShepHertz
ShepHertz is a Cloud Ecosystem Provider for Apps i.e. Mobile, Web, Social, Gaming and TV Apps. ShepHertz' endeavour is to make App developers successful on the Cloud, irrespective of the technology or platform on which they are developing. Their product line provides one-stop-shop ecosystem for developing Apps on the Cloud. Their Product line consists of App42 Cloud API – BaaS (Backend as a Service), AppWarp- Multiplayer Gaming Engine, App42 PaaS with App42 BPaaS & GPaaS solutions.