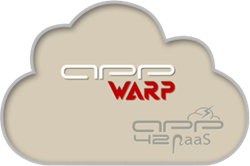 (PRWEB) February 25, 2014
ShepHertz– 'One Stop Shop for your cloud needs announces the launch of GPaaS, which is a perfect blend of the AppWarp on-premise solution and the highly robust App42PaaS. This launch fulfils the demand of AppWarp on-premise developers who do not want to manage their own infrastructure.
GPaaS (Gaming Platform as a Service) is a specialized PaaS setup for hosting AppWarpS2 game server applications. It works by creating an instance for you on App42 PaaS which is pre-configured with all the configuration for running AppWarpS2. You can scale/de-scale your servers with App42 PaaS. All the App42 PaaS benefits like security, Git integration, custom url, backup facilities and more are available to GPaaS users.
GPaaS takes just minutes to get up and running with minimum effort from the developer. You can use either PaaSHQ or PaaS CLI tool to get your AppWarp On-premise S2 server up and running.
Some of the salient features of GPaaS are:

Scale and descale as per traffic and other technical requirements.
Use other services and features provided by App42 PaaS e.g. MongoDB, MySQL, Redis etc.
Seamless cloud resources management. Don't have to build complex scripts and tool to manage VMs
Extend Server side functionality with Server side SDKs. e.g. complex interactions can be built to prevent cheating in dealer based games
AppWarp S2 also comes with a rich admin tool which allows developers to see the instance analytics and control its behavior

It allows developers to send custom messages and also exposes a server side game loop through which developers can generate custom messages from the server and send to clients
In Game chatting with support for private messages
Supports popular client side SDKs like iOS, Android, Windows Phone, Unity, Marmalade, Corona, Cocos2d, Cocos2d-x, J2ME, Flash and more
Multiple Samples like Chat Server, Space War Fare, Rummy Card Game, Unity 3rd Person Demo to get you started immediately
About ShepHertz
ShepHertz is a Cloud Ecosystem Provider for Apps i.e. Mobile, Web, Social, Gaming and TV Apps. ShepHertz' endeavour is to make App developers successful on the Cloud, irrespective of the technology or platform on which they are developing. Their App42 Product line provides one-stop-shop ecosystem for developing Apps on the Cloud. Their Product line consists of, App42 Cloud API – BaaS (Backend as a Service) and AppWarp- Multiplayer Gaming Engine and now it includes App42 PaaS with App42 BPaaS & GPaaS solution.