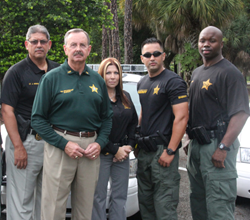 Our biggest obstacle is getting people to talk to us about random shootings, let alone a murder or homicide.
West Palm Beach, Florida (PRWEB) July 22, 2016
Sheriff Ric Bradshaw read the report, which stated that 39 homicides had occurred during the first 6 months of the year and that was the lowest mid-year number since 2009, when The Post began keeping record. In fact, it is 5 less than last year, which was one of the county's deadliest, as 2015 ended with 108 confirmed homicides.
Law enforcement authorities in Palm Beach County did however, caution the public not to draw any conclusions from the decrease, as they said patterns are hard to identify and problems such as convincing witnesses to speak out still exist. As of yet, no arrests had been made in 18 of the 39 homicides, but police consider one to be accidental and two to be justified.
"You never know when or where they're going to occur," Delray Beach police Lt. Scott Privitera said. "It's not a pattern-type crime."
According to Privitera, detectives and other law enforcement investigators hit a road block when they cannot find witnesses who will speak out about violent crimes.
"Our biggest obstacle is getting people to talk to us about random shootings, let alone a murder or homicide," he said.
During all of 2015, a total of 22 homicides occurred in West Palm Beach alone. Sheriff Ric Bradshaw and city officials have concentrated their efforts in order to avoid another violent outbreak that ravaged north-end neighborhoods during the summer of last year. So far, only three homicides have been reported within West Palm Beach city limits this year, which is 50% less than during the same period last year.
The motives for these violent crimes, according to authorities, have varied from domestic disputes to drug deals gone awry. The ages of the victims have been disparate as well, ranging from the youngest at 16 years old and the oldest at age 67. Other facts are that only 5 of the 39 victims were women and handguns were used in 31 of the homicides.
Mike Edmondson, spokesman for the Palm Beach County State Attorney's Office, said homicides rates are "cyclical," which can make it difficult for law enforcement agencies, as well as prosecutors, to distinguish patterns from year to year. Domestic violence situations are some the most troublesome to avoid, he said.
"That continues to be a challenge for law enforcement and prosecutors to have an impact," Edmondson said.
Where the 40 homicides in the first half of 2016 have taken place:
12: Unincorporated Palm Beach County
6: Belle Glade
4: Riviera Beach
3: Boynton Beach, Delray Beach, Lake Worth, West Palm Beach
2: Boca Raton
1: Lake Park, Pahokee, Palm Beach Gardens, Wellington
Source: Palm Beach Post database, citing law-enforcement records
See a database of all confirmed homicides in Palm Beach County since 2009 at http://www.PalmBeachPost.com/homicides
About Sheriff Ric Bradshaw
With over 43 years of law enforcement experience, Sheriff Ric Bradshaw has extensive training in all aspects of law enforcement, with special emphasis on domestic security and community-based policing. Sheriff Bradshaw knows that his first and foremost duty is to keep citizens safe.
The Palm Beach County Sheriff's Office provides police services for over 760,000 residents. Covering fifteen districts, the Sheriff's Office is comprised of over 4,300 total employees, including 1,700 sworn deputies, 980 correction officers and more than 1,500 civilians, along with thousands of local volunteers.
Sheriff Ric Bradshaw is Chairman of the Florida Sheriffs Task Force for Region 7, Chairman of the Regional Domestic Security Task Force for Region 7, Executive Board member of the FBI's Joint Terrorist Task Force, member of the Medicaid and Public Assistance Fraud Strike Force, among other law enforcement organizations.