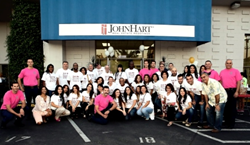 JohnHart Real Estate has established themselves as one of the more dynamic firms in the arena.
Sherman Oaks, CA (PRWEB) May 09, 2014
While many brokerages are pulling back amidst fears of a slower than usual selling season, JohnHart Real Estate appears to be charging forward. Having promised two more locations in the next couple months, JohnHart's executive team formally announced yesterday that the first of the two offices will be located at 15125 Ventura Blvd.
"We are all very excited about the new location," JohnHart's CEO, Harout Keuroghlian, commented, "as it puts us in a position where we can reach even deeper into the Valley. It allows us to help clients out there who were limited previously when it came to representation, and it gives us an opportunity to share our knowledge, experience, and innovative techniques with even more agents and brokers. It's a 'win' on all levels!"
Known for their "hands-on" team approach to selling property, JohnHart Real Estate has established themselves as one of the more dynamic firms in the arena. Privately held, and non-franchised, they pride themselves on their ability to create, implement, and execute ideas in days rather than weeks – without having to sacrifice quality. "Last week I met with an executive at Facebook, that Tuesday I created a program allowing our agents to leverage social media in a new way, had our marketing department make new landing pages for all of our agents on Wednesday, went over demographics with my director of marketing on Thursday, and at 9:30 a.m. on Friday I trained our agents on how the program works and rolled it out," said John Maseredjian, Director of Business Development at JohnHart.
Maseredjian continued, "While our agents enjoy our ability to move quickly, what I think they appreciate even more is the fact that we test our strategies on our dime before rolling it out to them. If our idea doesn't work, we scrap it and come up with another one. Furthermore, we run the campaigns for them- which is important because if we see that the effectiveness of a certain campaign is dropping we'll pull the plug. We truly believe that our success is contingent upon our agents' success, therefore we treat our agents like clients- and our clients like family."
With a salaried back office at each location, a marketing department consisting of designers and programmers, agent liaisons, showing coordinators, professional photo/videographers, 24/7 broker support, and a profit sharing program, it's easy to understand why JohnHart is growing (and perhaps the fact that it's all fee free explains the why the growth is happening exponentially!)
Given the already uber-competitive landscape of the real estate industry in the Valley, this entry from JohnHart would seem to be a bold move – if not a perplexing one. When questioned about the competitive landscape before them JohnHart's CEO responded "If we didn't already have a presence in the valley, breaking in would be tough indeed, but luckily we have been selling property out here for a long time and are well established already. That being said, even if we weren't established we would not shy away from competition, because out of competition comes innovation and better products."
To learn more about JohnHart Real Estate, their programs, agents, and ideals, visit http://www.JohnHartRealEstate.com.
About JohnHart Real Estate
JohnHart Real Estate is a full-service real estate firm headquartered in Los Angeles and lead by a team of industry experts. Established with the sole purpose of redefining real estate, JohnHart has a proven track record when it comes to experience, support and success.
Media Contact:
John Maseredjian
818-630-7811
http://www.JohnHartRealEstate.com