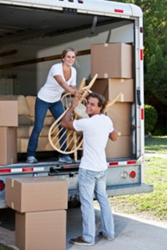 (PRWEB) November 16, 2013
Melrose Moving Company has released a blog offering five tips for a successful moving experience in Sherman Oaks.
A successful relocation depends a lot on organizing and planning. Many people find moving stressful and tiring, but with proper organization, relocating can be a pleasant experience. In order to enjoy a successful move, five essential steps need to be followed. Time, planning, moving supplies, patience and technique are all needed during a residential move. All of the preparations have to be finished in time, so that people will not do everything in a haste. Moving companies provide support with packing but they also offer good advice which clients should follow.
When planning a move, a series of things have to be decided. Among them are: the date of the move, the moving budget, a list of moving supplies, a list of things that need to be packed and deciding on a moving company for loading and transportation. Sorting all of these issues out before actually packing belongings can save many hours of useless effort. Moving companies always say that time is a very important factor during a move. Packing a house under pressure can lead to many mistakes which will have negative consequences.
Moving companies can provide assistance, advice and packing services. A moving company is important as it saves people time and money. The main part moving companies play during a household or business relocation is transport, but movers also offer many other services, like packing.
"Enjoying a pleasant moving experience depends on five important steps clients need to follow! Among them, calling a professional Sherman Oaks Moving Company, is the most important one!" said Russell Rabichev, Marketing Director for Melrose Moving.
Melrose Moving Company is a Los Angeles-based residential and commercial moving company. Originally established in 1999, and has been so popular that the owner started various other moving companies, such as 1 Los Angeles Movers, Movers Los Angeles, and Los Angeles Commercial Movers, all of which are operated by Melrose Moving. The moving company is licensed by the Public Utility Commission (PUC), and has an A rating with the Better Business Bureau (BBB). Melrose Moving accepts cash, checks, credit cards, and Paypal.
For more information, click on http://shermanoaksmovingcompany.com. Call now: 1.800.431.3920.