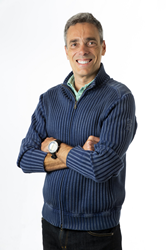 As CEO, Pedro will be committed to promoting the company's continued growth by executing on the vision of its co-founders. "My goals are to assist the founders in taking Sherpa to the next level by incorporating some of what I've learned over the years."
ST. LOUIS (PRWEB) April 11, 2019
Sherpa co-founders David Smith and Alexandra Fisher are pleased to announce the elevation of Pedro Soares to chief executive officer, effective April 15, 2019.
Smith, who will now preside as the company's chairman, will continue to play an active role in development of strategy, and in leading efforts to promote awareness of the company's proprietary Prospect Centered Selling methodology at industry conferences and training sessions, and in trade publications. Fisher will continue in her present role of President, focused on creative direction for product enhancements and marketing.
Describing Soares as a "keen business growth strategist," Smith states, "Pedro has been instrumental in executing our Strategic Plan and in preparing our team to scale."
Soares joined Sherpa in October 2018 as chief strategy officer, adding to the company's extensive expertise more than 20 years of international leadership experience, including growing businesses and developing brands at Anheuser-Busch and Turnberry.
A graduate of the Thunderbird School of Global Management, Soares has a passion for building companies. This passion was a driving force in his decision to join Sherpa. "What attracted me," he says, "was the opportunity to help build this company and take it to the next level, as well as the idea of helping seniors make one the most important decisions in their lives."
Soares is energized by Sherpa's focus on senior living CRM technology. "These are two exciting industries to be in today—the tech industry and the senior living industry," he states. "This company offers a unique situation in which you have these two industries together in one."
He has quickly proven his ability to become both fully immersed in these industries, and immediately valuable to Sherpa's leadership. He credits his Sherpa colleagues for their support in his successful transition, adding, "The amount of industry knowledge in this small company is incredible. I'm learning the industry very quickly, working with people who have done everything from building communities from the ground up to transforming the industry's sales paradigms."
Soares is inspired by the alignment of values and the sense of community he has found at Sherpa. As CEO, he will be committed to promoting the company's continued growth by executing on the vision of its co-founders. "My goals are to assist the founders in taking Sherpa to the next level by incorporating some of what I've learned over the years," he says, "and I'm excited to learn from and grow with this outstanding group of individuals."
About Sherpa
Founded in June 2014 by David Smith and Alexandra Fisher, Sherpa is a proprietary customer relationship management (CRM) software platform that transforms the senior living industry by transforming the sales process. With our Prospect Centered Selling methodology at the heart of the system, Sherpa marries leading CRM technology, hands-on training, robust analytical tools and deep customer engagement to revolutionize the way senior housing is sold. Based in St. Louis, Missouri, Sherpa puts prospects first by marrying empathy with technology to drive improved results. Find us on LinkedIn, Facebook or keep up with recent happenings on our blog.
Contact:
Cydney Grote
(314) 432-1234
cydney@sherpacrm.com