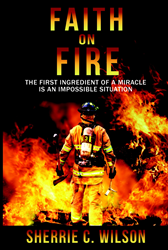 "In the face of "No you can't," live inside "Yes, I can!" Sherrie C. Wilson
Dallas, Texas (PRWEB) December 17, 2015
In 1977, Sherrie Wilson walked into the Dallas Fire Department and asked for a job one day after a male co-worker told her that women couldn't be firefighters. She found the department needed to hire women to meet Justice Department requirements. Thus began her almost 35-year journey chronicled in the new book, Faith by Fire.
"Walking into a burning building, not knowing what awaits, not knowing if there are canisters of explosives or toxic chemicals inside that pitch-dark, smoke filled Hellish environment, firefighters are trained to quickly assess the situation and to act immediately with no time to second guess their decisions," Wilson wrote.
"But, there is an additional element that transcends all training, all emotional and psychological preparedness, all human knowledge about danger and fear of doing this type of work - it's FAITH."
Faith on Fire is loaded with unexpected plot twists, conflict and redemption. This amazing book will keep readers riveted from the first page to the last. The book takes readers on the razor edge of life, facing plummeting drops into the presence of defeat, frustration and death. Wilson writes of the cost of allowing or participating in agitation or harassment. She also writes of facing and standing up to others who do not believe women belong.
Wilson commissioned a screen play of "Trial by Fire" written by Zena Dell Lowe. The screenplay has won numerous awards including:

2015 New York Screenplay Grand Prize Winner, Biographical/Historical
2015 World Series of Screenwriting Winners and Official Finalists, Historical/Biographical Silver Prize Winner
2015-16 TheWriteRoom.org Screenplay Competition First Round
About the author
Sherrie Wilson is a 34-year veteran firefighter and retired paramedic with the Dallas Fire Rescue Department. She is a nationally recognized writer, speaker and motivator. She currently serves as the founder, director of education and clinical manager for Emergency Management Resources (EMR) and CEO of FireHouseCommunications.com. For more information visit http://www.emresources.net or http://www.firehousecommunications.com.