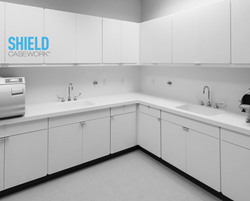 Shield is not just a product. Instead, we are changing the standard and expectation of furniture quality in healthcare. - Stephen Hopkins, president
Overland Park, KS (PRWEB) March 06, 2014
Architizer has selected Shield Casework as one of four finalists for the Architizer A+ Awards in the Products + Health Care category.
A modular solid surface line of products, Shield was recognized for its craftsmanship, elegant designs and patented product features. This dedication to quality, protection and beauty resonated with judges, who evaluated products on excellence in form, function and innovation.
"Shield is not just a product," said Stephen Hopkins, Shield Casework president. "Instead, we are changing the standard and expectation of furniture quality in healthcare."
According to Hopkins, Shield took solid surface – an underused material that mainly appeared in countertops – and used it to create an elegant, smart product for healthcare environments.
As a finalist in the awards, Shield is also competing for the A+ Popular Choice Award. Voting is online from March 4 through March 21 at awards.architizer.com/vote. Fans of the product are encouraged to go online and vote for it to win.
A global architecture award program, Architizer received more than 1,500 entries from more than 100 countries for the 2014 competition. The program's more than 300 jurors included CEOs and founders from companies and organizations such as Zappos, Architecture for Humanity and MoMA.
The A+ awards' category and popular choice winners will be announced April 1, and the program's Awards Gala is May 15 in New York City.
ABOUT SHIELD CASEWORK
Merging exceptional design into healing environments, Shield Casework manufactures the leading line of modular solid surface casework, headwalls and custom architectural products. Shield's philosophy is to create beautiful products that are meticulously crafted, immaculately clean and unmatched in quality. Seamless construction, cleanable radius corners and patented embedded connections make Shield superior to any other casework product.
ABOUT THE AWARDS
Now in its second year, The Architizer A+ Awards are the definitive global architectural award program with 60 categories and more than 300 judges. Recognizing the best projects and products in the profession, the awards program aims to reconnect the public with the buildings around them.
# # #