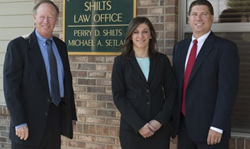 Both Mike and Kathy have been wonderful additions to our firm.
Fort Wayne, IN (PRWEB) February 15, 2015
With the recent "Superb" rating, Shilts Law Office, a family law firm focused on smart, long-term benefits of a well-crafted settlement that serve everyone's best interests, is moving into 2015 full speed ahead. This unique firm believes in the pursuit of a low conflict settlement, protecting the well-being of all involved, especially the children.
2014 proved to be a great year for this family law firm with Attorney Mike Setlak becoming a name partner and associate, Kathy Ridenour expanding her practice. Also, Mike, along with founder, Attorney Shilts, were two of only three attorneys in Allen County to be named a Top Lawyer in divorce law by Fort Wayne Monthly Magazine, as well as rated "Superb" by AVVO. In addition, 2014 was also Attorney Shilts' 18th year being rated by Martindale Hubbell as AV Preeminent®, the highest rating they give. According to their site, this rating is a testament to the fact that a lawyer's peers rank him or her at the highest level of professional excellence.
"Both Mike and Kathy have been wonderful additions to our firm," said Attorney Shilts. "Attorney Mike Setlak joined us in 2011 and brings years of experience in family law, including divorce, child support, the whole works," said Perry. "Kathy has been continuously growing her practice, seeing more clients in the family law area over the last few years, especially in 2014. As an associate, she has also been of great assistance to me in a variety of cases the firm has worked on."
Shilts Law Office has over 50 years of combined divorce and family law experience. The legal team includes Perry Shilts, Mike Setlak and Kathy Ridenour and their office is located at 10311 Dawson's Creek Blvd, Suite C, Fort Wayne, IN 46825. For more information or to schedule a consultation, please call 260-489-0700.
About Shilts Law Office
As a legal team devoted exclusively to divorce and family law cases at Shilts Law Office, they take pride in offering families in Fort Wayne and the surrounding areas the compassionate and committed counsel they deserve during difficult times. As seasoned attorneys, they embrace collaboration, knowing that negotiation and mediation offer the most affordable and least stressful means for settling a divorce and family law issues. However, if they do need to litigate a case, they are thoroughly prepared to fight for one's best interests in court and win.
About NALA™
The NALA is a full-service marketing agency providing custom personalized service for small and medium businesses throughout the United States. The NALA consults with each individual business and develops a specific strategy based on each business' unique advertising and marketing needs. Clients' campaigns focus on providing good web content which include services such as news releases, online advertising, social media, blogs, website development, and charity co-branding, among others.
PR Contact:
ttendell(at)thenala(dot)com
805.650.6121, ext. 361