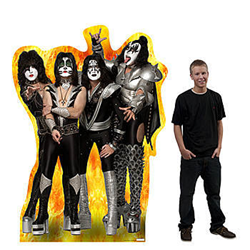 South Whitley, Indiana (PRWEB) April 10, 2014
The KISS Army is coming to thousands of homes and venues with a new line of party supplies from Shindigz featuring the legendary Rock and Roll Band. Party customers can now order personalized KISS merchandise and party supplies, ranging from banners and bottle labels to a giant 9 foot KISS Rock and Roll Arch. Shindigz has been "making life more fun" since 1926 and has brought KISS merchandise to customers with the complete KISS party solutions.
Jacquie Downey, director of sales for Shindigz says, "We are so excited that we are able to get in on the action and rock the ultimate in KISS favor and décor products. The Kiss brand comes to life for a rock 'n' roll party." Also available from Shindigz are bigger than life replicas of both Paul Stanley and Gene Simmons who founded KISS. The band was recently on the March cover of Rolling Stone Magazine 40 years after the release of their debut album and is being inducted into the Rock and Roll Hall of Fame on April 10th!
Other KISS merchandise available from Shindigz includes several Album Cover Standees, Big Head Standees, and 7 foot authentic Standees of both Gene Simmons and Pual Stanley's Guitars. Shindigz party customers can even include personalized gum, candy bar and mint tins with the distinct KISS logo as collector's items from Shindigz.
Shindigz has reached over 22 million events throughout 100 countries with party supplies shipped directly from South Whitley, Indiana, with more than 36,000 products. Shindigz, a family-owned company, provides customers with complete party solutions.