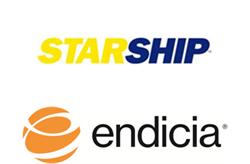 Endicia (USPS) integration with StarShip simplifies the shipment process creating a tightly integrated workflow to connect shippers with the best rate possible. said Caroline Walsh, VP of Sales & Marketing, V-Technologies, LLC
Cheshire, CT (PRWEB) January 30, 2015
V-Technologies, leading provider of integrated shipping software solutions, has launched an enhanced USPS integration powered by Endicia, leading provider of eCommerce shipping services.
The updated Endicia module helps shippers minimize freight spend while streamlining the returns process by adding support for consolidators such as UPS Mail Innovations and DHL Global Mail, Pay-On-Use Returns and Priority Mail Cubic Pricing. This latest software release also includes improvements in the area of dimensional weight to address the changing requirements by UPS and FedEx.
Dimensional (DIM) weight billing is calculated by comparing the actual weight to the package volume. Prior to 12/29/14 UPS applied the DIM weight calculation to all Air packages and only to Ground packages larger than three cubic feet. With the new DIM weight changes in 2015, UPS will calculate dimensional weight for ALL Air AND Ground packages regardless of size. Prior to 1/5/2015 FedEx applied DIM weight calculations to all Air packages and, just like UPS, only Ground packages larger than three cubic feet. Now FedEx is also making the move to calculate DIM weight for both Air and Ground packages. In addition to offering USPS options through the Endicia partnership, StarShip also addresses DIM weight changes with new settings to require length/width/height, providing rules based automation for selecting the best way and supporting flat rate boxes.
Distribution companies rely on shipping to grow. Dealing with the new dimensional weight rules are time consuming and costly with certain types of merchandise. StarShip shipping software offers a turnkey approach to processing small parcel and LTL shipments.. The bi-directional interface between the accounting software and StarShip streamlines the entire workflow to gain immediate efficiencies in shipment processing, accounts receivable and customer service for improved productivity and cost savings.
About V-Technologies, LLC:
Founded in 1987, V-Technologies is a shipping software development company who has developed a selection of solutions to meet the growing demand for integrated shipping. StarShip™ and ShipGear® are the two flagship shipping software products. V-Technologies develops interfaces with Sage Software's Sage 100 ERP (formerly MAS 90 and MAS 200), Sage 500 ERP, Sage 50, Microsoft Dynamics GP, Exact Macola and QuickBooks. Additional information about V-Technologies and its solutions is available at http://vtechnologies.com