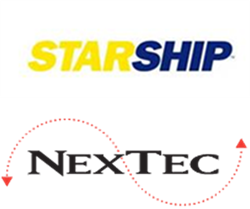 NexTec Group's Sage ERP X3 integration with StarShip simplifies the process to create a tightly integrated workflow connecting the pick, pack and ship process within Sage ERP X3. said Caroline Walsh, VP of Sales & Marketing, V-Technologies, LLC
Cheshire, CT (PRWEB) December 30, 2014
V-Technologies, LLC., a leading provider of integrated shipping software solutions for Sage Software customers, and NexTec Group, a leading Enterprise Resource Planning (ERP) software developer and solution provider, today announced a strategic technology partnership, The combined StarShip and Sage ERP X3 solutions bring together industry leaders to offer a complete shipping automation solution for Sage ERP X3 customers. NexTec Group adds Sage ERP X3 implementation expertise to eliminate the need for duplicate data entry in the order/shipment fulfillment business process for distributors and manufacturers. Sage ERP X3 customers ship faster and collect accounts receivable faster using the StarShip integration built by NexTec Group. Sage ERP X3 customers use the integration by creating a shipment in Sage ERP X3, scanning the order number into StarShip, packing and recording box contents, confirming the carrier through StarShip's rate shop interface, printing, affixing labels, shipping the product via the most optimum carrier selected by StarShip and having the tracking number and cost written back to Sage ERP X3. The ability to deliver these capabilities without having to write an integration between Sage ERP X3 and StarShip simplifies implementation and upgrades for both Sage ERP X3 resellers and their customers.
StarShip shipping software offers a turnkey approach to processing small parcel and LTL shipments with Sage ERP X3. The bi-directional interface streamlines the entire workflow to gain immediate efficiencies in shipment processing, accounts receivable and customer service for improved productivity and cost savings.
About V-Technologies:
Founded in 1987, V-Technologies, LLC is a shipping software development company who has developed a selection of shipping software solutions to meet the growing demand for integrated shipping. StarShip™ and ShipGear® are the two flagship shipping software products. V-Technologies, LLC offers shipping software interfaces with Sage Software's Sage 100 ERP (formerly MAS 90 and MAS 200), Sage 500 ERP, Sage 50, Microsoft Dynamics GP, Microsoft Dynamics AX, Microsoft Dynamics NAV, Everest, Exact Macola, QuickBooks, and Counterpoint. Additional information about V-Technologies and its solutions is available at http://vtechnologies.com.
About NexTec:
With offices across the US and Canada, NexTec offers ERP, CRM and business intelligence solutions for the challenges faced by food and beverage, manufacturing, distribution, energy (oil & gas), pharmaceuticals, chemical and other companies. NexTec sells and supports Sage ERP X3, Sage 500 ERP, Sage CRM, Microsoft Dynamics GP, Microsoft Dynamics SL and Microsoft Dynamics CRM. Customers choose NexTec because of its deep expertise and customer-service focus. NexTec's knowledgeable and certified professionals have unmatched industry experience. NexTec's CPAs, MCPs and MBAs work closely with customers to find the best ERP and CRM solutions that solve business challenges and meet future growth. For more information, please visit NexTec Group.