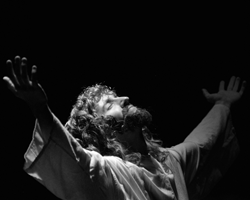 "The musical takes the audience from the manger to the resurrection," says Rick Webb. "This worshipful event is perfect for the Easter season."
Shipshewana, IN (PRWEB) April 14, 2014
The wonder and beauty of the Easter season will be celebrated in grand style April 14-19 with a musical program adapted especially for The Blue Gate Theater in Shipshewana. In three evening performances and two matinees, The Rick Webb Family and Arts Evangelica will fill the stage of the intimate downtown Shipshewana theater with beautiful music, interpretive dance, drama and dramatic monologue.
"The Glory and Majesty of Easter" has been created just for The Blue Gate audience as an adaptation of the musical "He's Gone". Rick Webb, patriarch of the musical family, says he worked closely with writer Derric Johnson, former creative director for Disney, to stage an "exquisite" event that is appropriate for the whole family.
"The musical takes the audience from the manger to the resurrection," says Rick Webb. "This worshipful event is perfect for the Easter season."
The Webb family of musicians includes Rick and his wife Phyllis and their children, Hannah and Parker. Local audiences have become familiar with the Rick Webb Family through the six seasons of "The Glory and Majesty of Christmas" offered by The Blue Gate Theater.
They will be joined on stage by Arts Evangelica, a dramatic dance troupe from North Carolina. The dancers, who will be returning from a tour in Israel just prior to arriving in Shipshewana, will offer interpretive ballet-style dance to bring even more meaning to the music and lyrics presented by The Rick Webb Family.
Also performing during this special event will be renowned concert pianist Andrew Lapp.
Webb stresses that the crucifixion scene is not performed in "The Glory and Majesty of Easter", but will be represented on stage by three crosses, making the event especially appropriate for families with young children. Dramatic lighting and outstanding theatrical sounds will enhance the performance of this unique musical. Fans of the well-loved "The Glory and Majesty of Christmas" will find this new production just as satisfying.
Martin and Beth Ann Moeller of Shipshewana say they are looking forward to experiencing this new Rick Webb Family musical.
"The Glory and Majesty of Christmas" was such a moving experience," says Beth Moeller. "We're certain this new musical will be just as spectacular."
Rick Webb says he and his family are looking forward to seeing some familiar faces when they return to The Blue Gate Theater for this new season.
"We love The Blue Gate," says Webb. "We're excited to be coming back and we hope 'The Glory and Majesty of Christmas' will become an annual event."
For more information and to order tickets for one of the five performances, visit The Blue Gate's Web site at https://www.riegsecker.com/shipshewana/bluegatetheater or contact the theater by calling 1-888-447-4725.