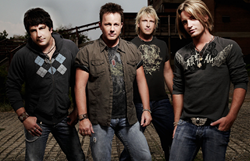 The Country band Lonestar is celebrating 20 years in the music business by reuniting with original lead singer Richie McDonald.
Shipshewana, IN (PRWEB) September 16, 2014
Three popular Country Music acts converge on Shipshewana's Blue Gate Theater September 18-20.
On Thursday evening, September 18, "the Gentle Giant" Don Williams brings four decades of country and pop tunes to the stage in an 8 p.m. performance. Williams' latest album, "And So It Goes," features a musical style that has made him a ballad vocal model for performers ranging from Eric Clapton to Keith Urban. Urban provides guest vocals on the new album, which is Williams' first recording in eight years.
Williams' popularity spans oceans and continents, where his music is recognizable in any language. With over 50 major hits, concertgoers are sure to find themselves transported back in time as they enjoy Williams' distinctive and memorable style.
The Country band Lonestar is celebrating 20 years in the music business by reuniting with original lead singer Richie McDonald. The multi-platinum quartet is on an extensive anniversary tour that brings them to Shipshewana on Friday, September 19.
Known for merging their country roots with strong melodies and rich vocals, Lonestar has amassed sales in excess of ten million album units since their national launch in 1995 and achieved ten #1 country hits including "No News," "Come Crying To Me," and their crossover smash "Amazed."
Calling themselves "just four good old boys from Texas" the band originally formed in Nashville, TN in 1992 and spent a couple of years on the road playing in bars before hitting it big. Their first single, "Tequila Talkin'," went Top Ten on the country charts, followed by their first number one hit, "No News."
For all their record and ticket sales, the biggest accomplishment of the band's storied career has been witnessing the impact of Lonestar songs in the lives of others. Nowhere has this been more evident than in the group's performances for U.S. armed forces stationed overseas in Iraq and Kuwait, where classics like "I'm Already There" have elicited powerful emotional displays from men and women who've put their lives on the line defending America.
Lonestar is currently hard at work making a new self-produced album and is starting its third decade of making music together with a bang.
The weekend of music wraps up on Saturday, September 20, with a performance by the iconic and profoundly influential Nitty Gritty Dirt Band. Often cited as a catalyst for an entire movement in Country Rock and American Roots Music, the band continues to add to their legendary status. With multi-platinum and gold records, strings of top ten hits such as "Fishin' In The Dark" and "Mr. Bojangles", multiple Grammy, IBMA, CMA Awards and nominations, the band's accolades continue to accumulate. Their groundbreaking "Will The Circle Be Unbroken" album has been inducted into the U.S. Library of Congress as well as the Grammy Hall of Fame. The band's recording of "Mr. Bojangles" was also inducted into the Grammy Hall of Fame in 2010.
Tickets for all three shows are available by contacting The Blue Gate Theater at 1-888-447-4725 or on the Web at http://www.riegsecker.com.