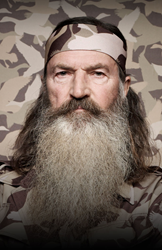 Every once and while we like to surprise people with an artist they'd never expect to see in Shipshewana.
Shipshewana, IN (PRWEB) October 29, 2014
The Blue Gate Theatre is pleased to announce their 2015 Performance & Concert Schedule. The 2015 lineup continues the Blue Gate's efforts to welcome some of the country's best known and loved performers across a variety of musical and entertainment genres. Notable names on the list include; Phil Robertson from A&E's Duck Dynasty, Merle Haggard, Red Green, Loretta Lynn, John Michael Montgomery, Mickey Gilley and many more. Along with the over 80 concerts, the Blue Gate will continue to produce their hit musicals and add one more to their musicals catalog.
"We are constantly asking our current guests what performers they'd like us to invite to Shipshewana, many of those requests and suggestions are reflected on this year's line-up," said Andrew Rohrer, Director of Marketing. "But, every once and while we like to surprise people with an artist they'd never expect to see in Shipshewana. This year I think we've pulled it off with Phil Robertson, he's huge name and we feel he's someone that our guests will really be excited to come see." Some of names that were highly requested and made it on the schedule this year include: Michael W. Smith, Steven Curtis Chapman, the Texas Tenors and Charley Pride.
The musicals line-up next year will include Josiah for President, which opened this year to sellout crowds and rave reviews. The story follows an Amish farmer by the name of Josiah who becomes a write-in candidate for the Presidency of the United States... without his consent or knowledge. Also returning is the much beloved and heart-felt musical comedy Half-stitched, a story about an Amish widow who's quilting class brings together a most unlikely group of people. New to the stage next year will be a Christmas Musical titled Our Christmas Dinner. This fun musical will explore our holiday traditions and the true meaning of Christmas when an Amish family takes shelter from a blizzard in an unlikely retreat. Written and produced by the same award winning team that brought Josiah, Half-Stitched and the Confession to the stage.
According to Andrew Rohrer, Director of Marketing, "The Blue Gate Theatre will be entering its 19th year and was originally established out of the Riegsecker Marketplace "Meeting House" as a means to provide tourists and locals who are visiting Shipshewana with outstanding evening entertainment, while staying true to the cultural roots of the community." The original shows proved so successful, that when the new Blue Gate Restaurant was built, it was expanded to accommodate a new professional theatre space.