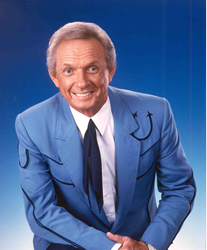 Shipshewana, IN (PRWEB) March 04, 2015
Shipshewana's Blue Gate Theatre welcomes Country Music Hall of Fame member Mel Tillis. Tillis, one of the most legendary stars to ever grace the stage in Shipshewana, will perform his many hits on Saturday March 7th at 7pm.
Tillis is also known as one of the stars who helped get Branson on the map during the "boom" years, and even though he hasn't had his own theater in many years, he still returns to perform there every year.
Tillis is a member of both the Country Music Hall of Fame and the Grand Ole Opry, thanks in large part to his more than 60 hit songs throughout his career. He scored his first No. 1 with a song he had written for, and that was previously recorded by Webb Pierce: "I Ain't Never" and went on to have several more No. 1 hits as a singer including "Coca Cola Cowboy," "Send Me Down to Tucson" and "Southern Rains."
Tillis also wrote an autobiography, "Stutterin' Boy," and has served as a spokesman and honorary chairman for the Stuttering Foundation of America. Most recently, he received the 2010 Academy of Country Music Cliffie Stone Pioneer Award, and in 2012 President Obama awarded him the National Medal of Arts.
While many folks were introduced to Tillis over the airwaves, an entire new generation of folks discovered him as an actor when he appeared in classic films like "Every Which Way But Loose" with Clint Eastwood, "W.W. & The Dixie Dancekings," "The Cannonball Run I & II" and "Smokey and the Bandit II" alongside Burt Reynolds. Tillis also starred along with fellow Branson legend Roy Clark in the comedy "Uphill All the Way."
Tickets for the show are available by contacting The Blue Gate Theater at 1-888-447-4725 or on the Web at http://www.BlueGateTheatre.com.
Showtime: Saturday March 7th, 2015 - 7:00pm (no preshow) | Doors open 1 hour prior to show.
Prices:
Tickets Only - $69.00 -$49.00 -$39.00 -$19.00
Dinner and Theater - $85.00 -$65.00 -$55.00 -$35.00
This Concert will be held at the Shipshewana Event Center, 800 S Van Buren, Shipshewana, IN 46565