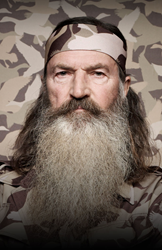 Phil Robertson, star of A&E's Duck Dynasty, will be the featured performer this week at the Blue Gate Theatre in Shipshewana
Shipshewana, IN (PRWEB) June 09, 2015
Phil Robertson, star of A&E's Duck Dynasty, will be the featured performer this week at the Blue Gate Theatre in Shipshewana. The reality TV star will join Grammy winners the Gaither Vocal Band and Pat and Debby Boone as well as nationally known comedienne Jeanne Robertson for one of the Biggest weeks of the year for the growing entertainment venue. Phil Robertson will perform Friday at 1pm and 7:30pm, some tickets are still available.
Robertson grew up in Vivian, Louisiana. With seven children in his family, money was scarce and very early on, hunting became an important part of his life. Through many twists and turns, he turned his love for hunting into a thriving business, with the first Duck Commander call produced in 1972. The rest, as they say, is history. Today, Robertson is known as an entrepreneur, an author, and a reality television celebrity.
In the mid-'70s, Phil turned his life over to the Lord and made dramatic changes. Phil Robertson is not only known as The Duck Commander, but also he has built a reputation across the country for his faith and belief in the Almighty. Every year, he is invited to speak to hundreds of churches and organizations, telling them what the Lord has done for him and what the Lord can do for them.
"We're very excited to host Phil Robertson," states Andrew Rohrer, Director of Marketing for the Blue Gate Theatre. "Few families and stories have captured the American attention like Duck Dynasty and Phil Robertson's Story. We're sure this day will be unforgettable to the thousands of Duck Dynasty fans who attend."
Since 2000, the Blue Gate Theatre has been offering an ever-increasing number of quality concerts, featuring bigger and well-known names in many different genres; everything from Country to Comedy to Southern Gospel, all within the family friendly atmosphere that Shipshewana represents. Since they started hosting concerts and musicals the Blue Gate has welcomed over a half-million patrons. Guests to Shipshewana visit from all over the country and world, with the town hosting well over one million visitors per year. The Theatre is part of Blue Gate Hospitality, that includes the famous Blue Gate Restaurant and the new Blue Gate Garden Inn.
Tickets are available for all the concerts this week and can be purchased by going to BlueGateTheatre.com or by calling the Box Office at 888.447.4725.