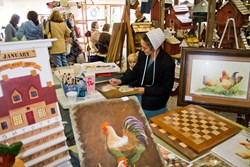 tents full of quality crafts created by both the Amish community and mainstream American artisans
(PRWEB) September 30, 2013
On October 3rd, 4th, and 5th Shipshewana, Indiana will offer up three full days of family-oriented entertainment at their 13th annual Fall Crafters Fair which is setting up to be the largest fall festival to date.
Held downtown and hosted by local Shipshewana businesses, visitors will discover several tents full of quality crafts created by both the Amish community and mainstream American artisans.
Basket-weavers, woodcrafters, food preservers, candle makers, potters, and painters are just a sampling of the many types of crafters the public will meet.
Along with the four large craft tents, one tent will be designated for children to enjoy hands on experiences. Young people can also enjoy a ride on a miniature wagon pulled by a miniature pony and miniature train rides.
Entertainment and food vendors will also be on hand to complete the three-day event.
Andy Rohrer, member of the local merchants association, said, "We really want to set Shipshewana apart as somewhere where people can step out of their daily lives and enjoy our beautiful town and maybe take a little something of it with them."
Several thousand people attend the Fall Crafters Fair, helping to usher in the peak time of autumn's colors.
Says Beth Thornburg, executive director of the LaGrange County Convention and Visitors Bureau, "Autumn is beautiful in Northern Indiana, with its warm days, cool evenings, and all of the colorful leaves. Not only will visitors enjoy nature's beauty, they also can experience homemade seasonal foods, especially warm pumpkin pie, a fresh apple dumpling, and hot cider."
The Fall Crafters Fair begins at 9 am on Thursday and goes through the evening on Saturday.
For more information: (800) 254-8090
http://www.visitshipshewana.org
http://www.fallcraftersfair.com