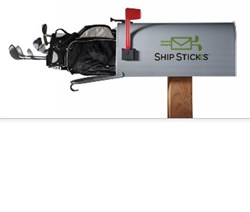 Flagler Beach, FL (PRWEB) February 06, 2014
Tee Times USA is offering customers the ability to ship their clubs using Ship Sticks. Powered by a proprietary, web based software platform, Ship Sticks provides customers with simple, timely and cost effective shipping of golf clubs and equipment to any destination in the world. Customers can easily schedule and ship their clubs to and from any location in the world using any device with internet access and avoid the painful trip to FedEx, the UPS store, post office or worst of all, baggage claim.
Increasing travel costs coupled with the hassle and expense of traveling with cumbersome and unwieldy luggage make Ship Sticks an excellent solution for golf vacation travelers wishing to simplify the travel process. Partnerships with the world's leading shipping and logistics companies enable Ship Sticks to offer the most competitive pricing and reliable service. Ship Sticks offers cost effective, white glove service and is available to every golfer and facility. For more information, please visit Tee Times USA's shipping page.
Shipping issues with FedEx and UPS do occur, but they are rare, much rarer than issues occurring when checking baggage with airlines. "We are about 50% less than using UPS or FedEx directly on any air service, and we use UPS and FedEx," said Ship Sticks CEO and Founder Nick Coleman. "Our platform finds the fastest routing for the lowest price based on where you live, and where you are going. But one thing most people don't understand is how we track the service. If you ship a bag from New York to Grand Cypress in Florida, it's going to pass through several hubs and scans. We know the exact routing and make sure every package hits every location on time. If a hub is missed or a scan not recorded, we know right away and contact the respective carrier to upgrade the respective package to make sure it arrives on time. No one in the industry does that. It is imperative to us that clubs arrive on time; and in the rare case a bag gets delayed, which can happen, we give the customer up to $200 of credit for club rentals, balls, etc, so they can play the day they arrive.
"As a consumer who has dealt with the stress and hassle of lugging my clubs to and through airports, I was thrilled to learn about Ship Sticks. Offering Ship Sticks solution to our customers will make traveling on a golf trip the relaxing experience it should be as they make the process seamless, quick, and easy," said Marc Bender of Tee Times USA.
With Ship Sticks offering through Tee Times USA, the customer after booking their golf getaway simply goes to the Tee Times USA's Ship Your Clubs page, enters their address and the destination address and then gets an immediate price quote. Ground shipping ranges from $39 - $59 within the United States. Once you place your order, you can print your labels directly from the site, or you can receive the labels via email and print them later. As part of the service, you will receive personalized follow up calls from Ship Sticks customer service reps before your clubs ship and after they arrive. Simply attach the label to the outside of your travel case, put a second copy of the label inside the travel case and your clubs are ready for pick-up. If your departure golf course or hotel has a direct relationship with Ship Sticks, of which there are over 1500 in the United States, all you do is leave your clubs there and they will do the labeling and shipping for you. If they do not work with the facility, you attach the return label and the clubs will be picked up there.
Contact:
To book a custom golf vacation and to learn more about utilizing Ship Sticks via Tee Times USA, contact us at http://www.teetimesusa.com or call 1888-465-3356.
Media Contact:
Marc A. Bender
Tee Times USA
386-439-0001 x319
mb(at)teetimesusa(dot)com