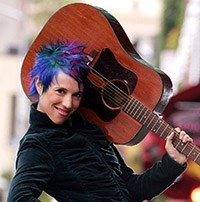 The Pied Piper of the Next Green Generation
Baltimore, MD (PRWEB) September 02, 2013
Shira Kline consists of Shira Kline, an award-winning, New York-based performer and music educator ion guitar and vocals; professional circus drummer Lee "Free" Frisari (Circus Amok), and glitter-pink glam rock star Viva Deconcini on guitar. ShirLaLa has performed in hundreds of venues throughout the U.S. as well as stages in Canada, England, Italy, Australia and New Zealand. The band has three "outrageously hip Jewish kiddie rock" albums that are favorites with the PJ Library, having sold over 25,000 copies. Equally popular is Kline's "Blog Sameach," a unique educational resource center for parents and teachers full of original coloring pages, recipes, teachings, stories and project ideas.
Raised in the world of music and in the tradition of the Torah, Kline has worked for over a decade with many Jewish communities to enrich holiday celebrations for children and adults. Kline's motivation stems from a family who infused every moment of life with the love of Judaism – special homemade foods, singing and dancing to Jewish music, exploring and reveling in all holidays, and ethics lessons learned from her father, Rabbi David Kline. In fact, Kline is paying it forward by being on faculty at the prestigious Hava Nashira and often appears as a guest teacher for cantoral and rabbinic students at Hebrew Union College-Jewish Institute (HUC-JIR).
Not only does she perform across the United States and internationally and serves on faculty, but Kline is a worship leader, runs adult Jewish music meditation classes, teaches professional development workshops for early childhood and music teachers, and is a featured performer and speaker with Synagogue 3000. If that is not enough, this blue-headed, sometimes pink- or purple-headed young woman is an actor, writer, and performer in the company she founded, Storahtelling: "Ancient Stories, New Generations." Kline's innovative approach was recognized by The Jewish Week in 2011 when they honored her as one of their "36 Under 36: The New Re-Engineers" of Jewish life.
Kline has been called the "Pied Piper of the next green generation" by LA Parent Magazine for her newest project, "Earth Worm Disco." A Parent's Choice award winner, this CD nourishes the brain, body, and heart with original and imaginative music, stories and games that connect children to environmentalism. Her "eco-music" honors the bounty of earth, sea and sky, and the wonders of growing up green. Shirlala's Gratitudes and Blessings concert is in honor of mother earth and incorporates sons from "Earth Worm Disco," which can be found at http://www.RockinOutGreen.com. The CD comes with original cover art, a package made entirely out of green and recycled materials, a plastic tray made from recycled soda bottles, and an optional special seed packet of butterfly garden mix so that fans can start growing a greener world today.
For media inquires or interview requests, please contact Allison Spiegel at 917.693.3407 or aspiegelpr(at)aol(dot)com.
Watch a video here: http://www.youtube.com/watch?feature=player_embedded&v=sQ3yBz0JfxM
PJ Library is a Jewish Family and Engagement program of the Harold Grinspoon Foundation, implemented in Baltimore by the Associated Jewish Community Federation of Baltimore and the Macks Center for Jewish Education with support of local donors. They mail free, high-quality Jewish children's literature and music to families raising Jewish children from age six months through six and one-half years.
The Jewish Community Center of Greater Baltimore promotes and strengthens Jewish life and values through communal programs and activities for individuals and families. Visit us at http://www.jcc.org
The JCC of Greater Baltimore is a constituent agency of THE ASSOCIATED Jewish Community Federation of Baltimore.
Shirlala
Presented in Partnership with PJ Library
Sunday, Oct. 20; 3 pm
Special Program for Families
Gordon Center for Performing Arts
$10 in advance/ $12 at door
Reserve tickets online at http://www.gordoncenter.com or in person at the Owings Mills JCC
For more information: info(at)gordoncenter(dot)com or 410- 356-7469
http://www.shirlala.com