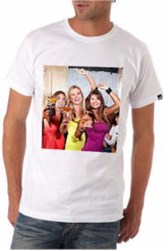 Roanoke, VA (PRWEB) July 31, 2013
Printing on garments using rubbery screen inks has long been the method of choice, but often proves to be less comfortable and durable. Innovative printing company ShirtCircuit.com has addressed this issue by developing Dyesterin Image Technology, which uses lightweight dyes to produce crisp, vibrant images on printed garments. Virtually undetectable by touch, the printed images are far superior than those printed using screen inks in both longevity and comfort. Images also will not crack, fade, or peel over time.
To celebrate the launch of this unique printing alternative, ShirtCircuit.com is featuring competitive pricing as low as $5.65 per shirt with a minimum order of 25. Full-color imprinting is included as well, with no extra charge for custom lettering. Customers can choose from a wide array of designs for any occasion, and create memorable keepsakes for friends and family.
To learn more about ShirtCircuit.com, visit the company website at http://www.shirtcircuit.com/.