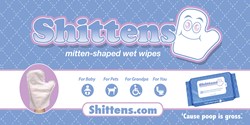 We're Number 1 at Number 2 said Richie Wilson, CEO of Shittens.com
New York, NY (PRWEB) November 25, 2013
For those not familiar with Shittens, they are disposable mitten-shaped wet wipes. While old fashioned square wet wipes put your hands at risk of all kinds of accidental fecal contamination, with new Shittens, you can fully protect your hands while tending to the dirty deed. The genius mitten shape of a Shitten provides not only protection, but on a larger scale, emotional peace of mind.
How many times have you taken one of those substandard square wet wipes to the posterior of a child, risking major contamination from that flailing poop cloth? And how many times has your dog's "number two" been a little closer to a "number one and a half," requiring a deadly grab & pull maneuver with whatever's laying around? Enough is enough. Shittens are safe for babies, pets, grandpa and you.
This 20% off savings is unprecedented at Shittens HQ. Says Chief Marketing Officer Rachel Fine, "If there's one great universal truth that we can all agree on, it's this: No one wants poop on their hands. And yet, we laugh carelessly in the face of danger every time we take an old fashioned square wet wipe to our heinies, flying completely blind in the critical poop-to-hand spatial relation." Adds CEO Richie Wilson, "Essentially, we're Number 1 at Number 2."
Shittens have been featured on Buzz Feed, Laughing Squid, Egotastic, Tosh.0, The Howard Stern Show, CBS' Live From the Couch and more. They've been talked about by Mark Cuban, Howie Mandel, Guy Kawasaki, Norm MacDonald, Zak Bagans, Natalie Maines, JWoww and Jenny McCarthy, who called Shittens "this year's stocking stuffers."
To take advantage of the one day only BROWN FRIDAY 20% off savings, visit Shittens.com and enter coupon code "POOP" at checkout.