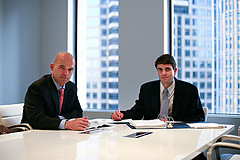 "Insurance companies know which law firms know how to win at trial and which ones will ultimately cave in and get their clients to settle for less than full value." - Alan Hamilton
Montgomery, AL (PRWEB) May 30, 2014
Shiver Hamilton, LLC, an Atlanta based personal injury law firm specializing in catastrophic personal injury cases on behalf of individuals and families, obtained a jury verdict in favor of the victim of a motorcycle crash.
The lawsuit went to trial in Montgomery, Alabama in federal court. The case was styled Brewster v. Southern Home Rentals. Shiver Hamilton's client was on his way back to work from lunch. He is a master-certified Harley-Davidson mechanic and was riding his own personal Harley-Davidson bike. As he went through an intersection on a greenlight, a Ford Econoline van attempted a lane change and struck the Plaintiff. The van was owned by Southern Home Rentals, a company specializing in renting appliances and furnishings to consumers. "The crash caused a significant leg fracture to our client, which resulted in several surgeries," said Shiver Hamilton partner Alan Hamilton. "From day one of our involvement, we ran down witnesses, corporate GPS data and cellphone records, to put together the puzzle of why the van driver didn't see our client and caused this crash," added Hamilton.
Shiver Hamilton moved this case quickly through the Court system, getting it tried and collected in less than a year after filing suit. Ultimately, it was necessary to take this case all the way to trial to obtain full value. "After we got all the witnesses and documents organized, it was clear our client was not at fault for causing the crash," said Alan Hamilton. "But the insurance company thought in the conservative venue of Opelika (Lee County) that a jury would simply not see much value in an injury case." Negotiations broke down with the insurance company insisting on a discount off of full value to settle the case. "In all personal injury cases, this is a recurring theme," according to Hamilton. "Insurance companies know which law firms know how to win at trial and which ones will ultimately cave in and get their clients to settle for less than full value." This is particularly true in motorcycle cases, "where there is always the subtle defense suggestion that the Plaintiff should not obtain full justice because he or she took on the risk of riding a bike." Especially in these cases, "it is imperative that injured parties find lawyers familiar with these issues and capable of going all the way through trial to obtain justice," added Hamilton. The jury's verdict in this case was several hundred thousand dollars more than the insurance company's top pretrial offer.
About Shiver Hamilton
The Firm is based in Atlanta but handles serious motorcycle and other injury cases throughout the State and Southeast. Shiver Hamilton provides its services free of charge unless the victim recovers compensation. To learn more, please visit http://www.shiverhamilton.com or call (404) 593-0020.