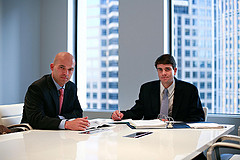 Atlanta, GA (PRWEB) January 27, 2015
The confidential settlement was between the injured party, the truck driver involved in the collision, the truck company he works for, and the insurance company, according to court documents.
The plaintiff was injured, she alleged in her Complaint, when the tractor-trailer drifted into her lane as both vehicles were turning left off of an interstate exit ramp in DeKalb County.
The plaintiff alleged through the lawsuit that sustained minor injuries in the collision but experienced low back pain shortly after the collision.
The plaintiff filed suit and the case was pending in the United States District Court in the Northern District of Georgia. The Complaint and discovery documents alleged the tractor driver was negligent and operating the tractor-trailer and that the crash caused her injuries and damages.
The tractor-trailer driver and his employer filed an Answer to the plaintiffs complaint and denied any responsibility for the wreck. The parties attempted to settle the case at mediation, but were unable. As the parties were preparing for trial, the insurance company for the defendants offered to pay their policy limits and the plaintiff accepted.
Shiver Hamilton is an Atlanta, Georgia-based personal injury firm specializing in wrongful death cases or significant personal injury, motor vehicle crashes, tractor trailer crashes, premise liability and representation of victims of rape or sexual assault. Shiver Hamilton provides its services free of charge unless the victim recovers compensation. To learn more about the firm, please visit http://www.shiverhamilton.com or call 404–593–0020.