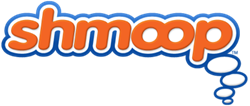 Many digital test prep programs simply provide practice tests. Shmoop does that, and so much more. It gives usable data and targeted tools to help give students exactly what they need to feel confident and perform well.
LOS ALTOS, Calif. (PRWEB) August 15, 2018
These days, anything can be a competition—from football games to hot dog eating contests and everything in between. But maybe the most competitive of them all? College admissions.
The rivalries are fierce between Team SAT, Team ACT, and Team Standardized-Tests-Are-Ruining-Students'-Creative-Souls, but at least they can all agree: standardized tests are ultra-important in getting students into their dream college. So just as other competitors lift weights or uh, scarf down hot dogs like there's no tomorrow, students need practice to show up on test day well-prepared.
That's where Shmoop comes in. (Hot dogs not provided...and only recommended in small portions.)
Shmoop (https://www.shmoop.com), a digital publisher known for its award-winning test prep and online courses, has updated its ACT prep to deliver enhanced skills analysis just in time for the new school year. While the core elements of Shmoop's classic ACT prep are the same (read: tons and tons of practice questions), students will now find finer-grained analysis of their practice test scores and more comprehensive review materials in the math and science sections.
Shmoop's new ACT prep features revised review materials, drill questions, and full-length practice exams. In the math section, review materials and practice questions cover a wider variety of advanced topics like vectors, graphs of logarithmic functions, and permutations using factorial notation. In the science section, Shmoop's practice exams challenge students with questions that require more prior scientific knowledge that they'll encounter on exam day. And across the board, drill questions and practice exam reports are labeled according to the score reporting categories used on the ACT, making it even easier to determine what skills are game-day ready...and what skills might need more work out on the practice field.
"We're constantly updating our test prep to give students the best shot at a good score on test day," says Shmoop CEO Ellen Siminoff. "With our most recent upgrade, we want students to see exactly how the ACT would label each of their practice questions. Then they can use that data to study with better accuracy—and ultimately, with better results to follow."
Shmoop also knows that behind every great athlete is a great coach, and that means teachers will find everything they need to seamlessly integrate their ACT prep into everyday instruction. By using Shmoop's virtual classrooms and analytics to assign students drills on the skills that they need to practice most, teachers can coach their students right to the finish line. Check out what one teacher had to say:
"I cannot recommend Shmoop highly enough," says Daniel Floren, whose student saw a score increase from a 24 to a 30 after just seven weeks of using Shmoop. "Many digital test prep programs simply provide practice tests. Shmoop does that, and so much more. It gives usable data and targeted tools to help give students exactly what they need to feel confident and perform well."
Students and teachers using the updated resource will find all the bells and whistles that aspiring college-goers before them had: two diagnostic exams, test-taking strategies, comprehensive concept review, nearly a thousand drill questions with engaging answer explanations, and over 450 accompanying videos. The new prep also features two full-length practice exams right now, with five more to be added over the coming weeks. (Hey, Joey Chestnut didn't start out eating 74 hot dogs in one sitting. Pacing is everything.)
Individual test-takers can subscribe to Shmoop at a low monthly rate, and schools and districts can get major discounts by contacting sales(at)shmoop(dot)com. Either way, users get access to Shmoop's virtual classrooms and analytics, so they can make sure they're practicing the right skills to crush the competition—er, the ACT—on test day.
About Shmoop
Shmoop offers hundreds of thousands of pages of original content. Their Online Courses, Test Prep, Teaching Guides, Learning Guides, and interactive Study Tools are written by teachers and experts and balance a teen-friendly, approachable style with academically rigorous concepts. Shmoop sees 16 million unique visitors a month across desktop and mobile. The company has won numerous awards from EdTech Digest, Tech & Learning, and the Association of Educational Publishers. Launched in 2008, Shmoop makes the magic happen from a labradoodle-patrolled office in Los Altos, California.