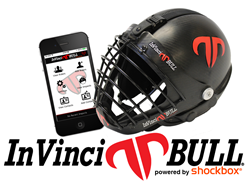 Shockbox & InVinci-Bull make a smart choice for bull riding and rodeo
Lamoni, IA (PRWEB) October 22, 2014
As the developers of the leading Bull Riding helmet in North America and the official Bull Riding helmet of the National Intercollegiate Rodeo Association (NIRA) partnering with Shockbox was the obvious choice. "The match of the two leading brands in Bull Riding helmets and helmet sensors was evident," says Owen about the partnership, "We are excited to bring the unique technology to the Bull Riding market and make an impact in head safety."
Shockbox helmet sensors are made by Impakt Protective, a developer of smart sports sensors and led by the creator of the first helmet sensors for the Marines and Army to record roadside IED blasts in Iraq and Afghanistan in 2006. The tiny 0.9oz Bluetooth sensors have been in use around the world in hockey, football, lacrosse and snow sports since 2011 and spawned a growing desire for affordable data about repeated head impacts. Shockbox helmet sensors have been used in peer reviewed research by POP Warner football and University of Pittsburgh Medical Centre (UPMC) for concussion research in 2012 and 2013.
"We know how superior the InVinci-Bull helmets are having tested them in our labs with Shockbox helmet sensors fitted," says Crossman, a veteran of helmet development in sports, military and bomb disposal applications. "Providing access to data and immediate impact alerts to parents, riders and coaches is a key part of the concussion and head trauma system." InVinci-Bull will be selling bull riding helmets fitted with the Shockbox helmet sensors inside the helmet and connected to a smartphone app developed exclusively for InVinci.
About InVinci Safety Systems, LLC.
Founded in 2012, InVinci Safety Systems is a privately held Iowa based Limited Liability Company that specializes in the research and development, manufacturing and marketing of Personal Protective Equipment utilizing Advanced Materials capable of reducing blunt force trauma impacts. The InVinci-BULL Bull Riding Helmet, the initial product launched, has rapidly gained global market success with bull riders at all levels of the sport now relying on it to reduce life altering injuries. The company has active Research agreements with Iowa State University, The University of Calgary and several strategic partners to further develop products that can reduce the frequency of life altering injuries and potential fatalities. The company produces several additional Head Protective Products for Equestrian, Livestock Handling, Sports and FBLM Smoke Jumpers. The company headquarters are located in Lamoni, Iowa.
About Impakt Protective Inc.
Incorporated in 2010, Impakt Protective is a privately owned high‐tech sensor company located in Ottawa, Canada and the creation of Danny Crossman and Scott Clark. Danny Crossman, a former Army bomb disposal officer and Business Development executive, led the development of numerous life‐saving technologies such as the bomb suit, featured in the movie The Hurt Locker; Advanced Combat Helmet impact pads; roadside bomb jammers used by the USMC and recently the Helmet Impact Sensors used by US Army and USMC to monitor mTBI in deployed soldiers and marines. Scott Clark is an active hockey player, coach as well as hockey Dad, and a former software high tech executive with experience in Program Management, Business Intelligence and Operations.