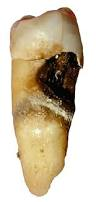 A bright and healthy smile is its own reward.
SANTA CLARITA, Calif. (PRWEB) March 06, 2019
A February 15 article on the Daily Mail reported on a 21-year old student from the United Kingdom who suffered shockingly extensive tooth decay after drinking as many as six energy drinks per day for a period of seven months. The drinks, which are filled with extreme amounts of sugar and caffeine, eroded the young man's teeth to the point that four of his front teeth literally "snapped" when he bit into an ordinary apple. Damage to his surrounding teeth was so extensive and complete that the youth now requires a full set of dentures. The man cited a need for extra energy for his studies and attempted to hide the damage from friends and family to avoid embarrassment. Los Angeles-based dental clinic Santa Clarita Valley Dental Care says that while the young man's case lies far outside the normal range of incidents they see, had he elected to visit a dentist much earlier he may have been able to save or at least limit the damage dealt to his teeth.
Continuing, the clinic says that it is not uncommon for high school and college students to drink excessive amounts of sugary, caffeinated beverages like energy drinks or flavored coffees. In doing so, they risk severely damaging their teeth as the overabundance of sugar quite literally erodes tooth enamel, leading to cavities and decay. The clinic says that if these conditions are left unchecked, they can not only lead to a loss of confidence from an aesthetically-displeasing smile, but can also cause complications with other critical areas of health.
The clinic says that, while it may certainly be tempting for time and money-strapped students to forgo routine care when they don't notice a problem, the more likely scenario is that these students are creating otherwise avoidable damage and expenses in the long term—much more so than had they simply gone in for a checkup before the first sign of danger. As such, the clinic notes that it is much more sensible to visit a dentist regularly. Doing so not only protects their teeth and self-confidence, but also limits the possibility of suffering from other afflictions related to poor dental health. The clinic says that, in addition to regularly visiting their dentist, all individuals should at least try to limit their consumption of sugary drinks while also brushing their teeth habitually and efficiently - a bright and healthy smile is its own reward.
Interested readers can find more information on Santa Clarita Valley Dental Care by visiting their website at https://www.scvdentalcare.com or by calling 661-577-4166.