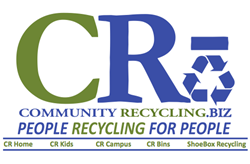 We are so pleased to work with Community Recycling and ShoeBox Recycling to present alternatives for Sneaker Week to the companies in the Philadelphia-Metro area with more exacting dress codes
Fairless Hills, PA (PRWEB) November 18, 2013
Today, Back On My Feet (BoMF) Philadelphia is pleased to announce a significant collaboration with Community Recycling and their innovative shoe reuse program called ShoeBox Recycling for this years' Sneaker Week Campaign. Corporations participating citywide have signed up to recycle shoes via ShoeBox Recycling and have all the funds earned go directly in support of BoMF Philadelphia.
Sneaker Week is an employee engagement and awareness-building campaign during National Hunger and Homelessness Awareness Week. Companies sign up and encourage their employees to donate $5 for the privilege of wearing sneakers to work. The donations benefit Back on My Feet a national for-purpose 501(c)3 organization that uses running to help those experiencing homelessness transform their own lives and achieve employment and independent living. Individuals living in homeless facilities participate in Back on My Feet's six- to eight-month running-based program in which Members earn the opportunity to move their lives forward through the many resources provided within the program – such as financial literacy, education, workforce development and employment and housing opportunities.
ShoeBox Recycling has been working with the BoMF Philadelphia for over a year now with great results. Many corporations want to participate but have a tougher time getting sneakers approved for work based on the clientele they service, or they already wear sneakers to work. ShoeBox Recycling offers another great way to get involved and earn funding is by collecting shoes with reuse in mind.
Here is a list of the companies that have signed up for ShoeBox Recycling in a coordinated effort to support Sneaker Week with BoMF Philadelphia:
Arcadia University
Cub Scouts
Wells Fargo Bank
Holy Trinity Women's Group
Moore College of Art & Design
Environetics
Villanova University
Stradley, Ronon, Stevens & Young, LLP
Temple Fox School of Business and School of Tourism and Hospitality Management
Parente Beard LLC
Independence Blue Cross
Thomson Reuters
Tonic Life Communications
Accenture-PECO
Sugartown Elementary School
Morgan Lewis
DeSales University
And the list continues to grow each day as Sneaker Week approaches.
"We are so pleased to work with Community Recycling and ShoeBox Recycling to present alternatives for Sneaker Week to the companies in the Philadelphia-Metro area with more exacting dress codes," said Cathryn Sandersen, Director of Communications for the Philadelphia Chapter of BoMF. "Many groups are choosing to both wear sneakers and recycle shoes! Fundraising groups who use ShoeBox Recycling collections to support BoMF will find a great new opportunity that works hand-in hand, or foot by foot with Back on My Feet."
"Together we are raising awareness for the local homeless population and the hunger they experience as a result, while also promoting athletic shoe recycling and reuse," said Lisa Pomerantz, VP of Marketing and Business Development for Community Recycling. "We are happy to offer an option that allows more for more people, groups and corporations to get involved with Sneaker Week. Our hope is to collect a great amount of quality shoes, connect recyclers to their SoleMate, and raise a lot of funding for BoMF."
All of the funds raised for BoMF Philadelphia will be used to support the self-sufficiency of BoMF Philadelphia and the programs, education, housing training and employment efforts. All of the shoes collected for recycling will be reused anywhere affordable shoe options are needed.
###
ABOUT COMMUNITY RECYCLING
Community Recycling is proud to be a for-profit clothing recycler with a focus on REUSE. They have flipped the recycling triangle upside down and have mastered the most powerful 'R,' REUSE, with more than 98% of the goods collected destined for REUSE here and around the world. Engaging people in the communities where they live is essential to making the recycling process as convenient as possible. Community Recycling is effectively diverting millions of pounds of clothing, shoes and other secondhand things from landfills, generating new revenue streams for municipalities, townships, boroughs, commercial retail locations, schools, charities, thrifts; and fueling local economies by creating jobs both here and in emerging countries. Community Recycling offers a portfolio of innovative recycling programs including CR Home, CR Kids, CR Campus, CR Bins and ShoeBox Recycling. Visit us at http://www.communityrecycling.biz for more information and please join us as one of our People Recycling for People.
###
About BoMF Philadelphia
Founded in 2007, Back on My Feet (BoMF) is a national nonprofit organization that is dedicated to creating independence and self-sufficiency within the homeless and other underserved populations by first engaging them in running as a means to build confidence, strength and self-esteem. The organization does not provide food nor shelter, but instead provides a community that embraces equality, respect, discipline, teamwork and leadership.
BoMF has chapters in Philadelphia, Baltimore, Washington DC, Boston, Chicago, Dallas, Indianapolis, Atlanta, New York City, Austin and Los Angeles. Find out more about Back on My Feet Philadelphia by clicking here: http://philadelphia.backonmyfeet.org/