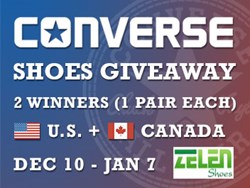 Zelen Shoes thanks its loyal customers wholeheartedly for their unlimited support, by giving away two pairs of Converse shoes this festive season.
Vancouver, Canada (PRWEB) December 20, 2013
It is the holiday season once again and people are looking for opportunities to have a good time. Since it happens to be Christmas and New Year season, shopping lovers are seeking buying something new for either themselves or for their loved ones.
To celebrate New Year and Christmas with its existing as well as potential consumers, Zelen Shoes will be engaging in a give away. The CEO at Zelen Shoes, Baseer Khudayar says, "The Christmas and New Year season brings a trend of gift giving. Zelen Shoes takes the opportunity to celebrate Christmas and New Year by giving away two pairs of Converse shoes to two lucky winners. Each winner will win one pair of Converse shoes."
Zelen Shoes is a reputed online store that provides shoes, shoe laces and everything that is related to shoes. The brand is currently running a giveaway that will be held till January 7th 2014.
Converse shoes is one of the leading brands in the shoe industry. The main offering of Converse shoes is sneakers. These shoes are highly popular amongst people of all age groups. The All-Star variety of Converse shoes is also very famous because of their style and comfort.
In order to participate, users are required to visit the website of Zelen Shoes and fill an online form. The winners of the lucky draw will be announced on 8th January 2013. Both the winners, whose name will be taken out in a lucky draw, will be notified through e-mail.
With regard to the giveaway, Baseer Khudayar, CEO of Zelen Shoes said, "It is a great opportunity for people to come and spend some time at Zelen's online store. It will also make us visible to the people that we are missing out on. In a way, it is a targeting exercise aimed at understanding demographic details of people that shop, or are willing to shop at Zelen Shoes and other online shoe stores", he added.
Zelen Shoes is your companion in smart shoe shopping. Founded in September 2009, the brand aims at selling the best of shoes at the best of prices. The USP of the brand; however, is its shipping policy. The brand commenced its business with brands like Converse, VANS and Dr. Martens. Today, it is rapidly growing to manufacture even its own brand of shoes.
ABOUT ZELEN SHOES
Zelen Shoes is an online one-stop-destination for those who love to shop for footwear. The brand encourages smart and convenient shopping. The store features a wide variety of shoes from brands like Converse, Dr. Martens, VANS, HAVAIANAS and NorthFace.
The brand features an interesting and inimitable shoe range; and,is also known for being fun and engaging online. Apart from selling branded shoes online Zelen Shoes gives customers a chance to design their own shoes!
Contact:
Baseer Khudayar
media(at)zelenshoes(dot)com
Zelen Shoes Inc.
894 Granville St.
Vancouver, BC
V6Z 1K3
Canada
888-699-3536, ext 0
http://www.zelenshoes.com