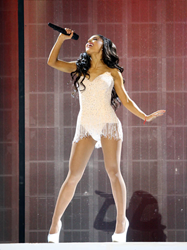 To celebrate the opening, Shoe Toy is offering a fantastic Holiday promotion of 20% off all orders online with free shipping...
Los Angeles, CA (PRWEB) December 10, 2015
Harry Kristoff is a fourth generation shoemaker who has been designing and manufacturing shoes out of his factory in San Fernando, California for the past decade. He has been making custom designed shoes for notable celebrity clients, including Ariana Grande, Katy Perry, Beyonce, Nicki Minaj, Dwayne Wade, and Paris Hilton, to name a few. His shoes are also featured at world famous retailer Gregory's at Fred Segal in Los Angeles as well as in high end boutiques around the world.
Under the brand name Harlequin™, Harry is now bringing his shoemaking expertise and capabilities to the public by launching ShoeToy.com, an online website which is more like a virtual portal to a shoe factory, where customers can choose from a variety of styles to customize to their own specification and liking. To celebrate the opening, Shoe Toy is offering a fantastic Holiday promotion of 20% off all orders online with free shipping until Valentines Day 2016. Just enter the promo code, SHOELIDAY2015, upon checkout.
The custom design shoe site is nothing new, however, the difference between Shoetoy.com and other "design your own" shoe sites, is that the renderings of the custom options that the users see are real and not animated. They are not 3D renderings or drawings, but rather, an accurate depiction of the finished product. This allows visitors to see what the actual shoe will look like with all of their selected options.
Another advantage that Shoe Toy offers is their quick turnaround time. Shoes go from design to manufacture right away and are delivered in only 14 days from the time of purchase. That's at least two weeks faster than anyone else who makes made to order shoes. Shipping in the states is always free and express shipping options are available worldwide.
Shoe Toy makes each shoe entirely by hand by skilled artisans and shoemakers right here in the USA and all of their shoes are made using only the highest quality materials. Shoe Toy also stands behind its' products, offering not only a 365 day return or exchange on any of their shoes, but also the ability for their customers to send in their shoes for care and repair throughout the life of the shoe.
About ShoeToy,
Now, everyone can enjoy a fun and easy online shoe designing and shopping experience. On Shoetoy.com you don't have to be a superstar to look and feel like one. Make an expression with your footwear and be unique with your own custom made shoes.
Visit http://www.Shoetoy.com and enter promo code, SHOELIDAY2015, for 25% off all orders online with free shipping.