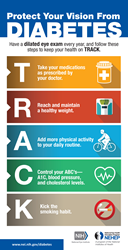 Diabetic retinopathy can cause blindness if left untreated.
Nashville, TN (PRWEB) November 20, 2015
Dr. Stewart Shofner of Shofner Vision Center joins the National Eye Health Education Program (NEHEP) to deliver helpful information about a leading cause of blindness during Diabetic Eye Disease Awareness Month. "Diabetic eye disease doesn't appear with early warning signs; anyone with diabetes should schedule an annual eye exam and receive treatment promptly to prevent vision loss," says Dr. Stewart Shofner.
Diabetic Eye Disease
Also known as diabetic retinopathy, diabetic eye disease is a condition occurring in persons with diabetes, which causes progressive damage to the retina, the light sensitive lining at the back of the eye. Tiny blood vessels that nourish the retina become damaged and leak blood and other fluids that cause retinal tissue to swell and cloudy vision. The condition usually affects both eyes.
The longer a person has diabetes, the more likely he or she will develop diabetic retinopathy. If left untreated, diabetic retinopathy can cause blindness. Early warnings aren't always noticeable, however the most common symptoms include:

Blurred vision
Seeing spots or floaters in your field of vision
Having a dark or empty spot in the center of your vision
Difficulty seeing well at night
Over 8 million Americans have undiagnosed diabetes and will experience major health risks including vision loss unless appropriate action is taken. According to diabetes.org, in 2005–2008, of adults with diabetes aged 40 years or older, 4.2 million (28.5%) people had diabetic retinopathy. "The number of people with diabetes has increased significantly just in the past couple of years and health professionals have an obligation to help spread awareness about diabetic eye disease," says Dr Shofner.
Vision Tips
1) Eye Exams. Diabetic retinopathy may take years to develop and some people live with undiagnosed diabetes, which is why it is extremely important to have regular comprehensive eye exams. It is also imperative for patients to fully disclose any health complications, medications and supplements taken.
2) Physical Exams. Many adults don't deem a physical exam is necessary unless a problem arises. However, a physical exam including blood work can determine if diabetes, elevated blood sugar or high cholesterol levels exist. Blood sugar levels can affect the shape of the eye's lens, which in turn may cause blurred vision. Controlling blood sugar levels and cholesterol may reduce vision impairment.
3) Wellness. Exercise is the best preventative medicine for improving one's health. Maintaining a normal weight will help keep blood pressure in check as well as cholesterol levels. Patients with high blood pressure may cause a cloudy lens. Stop smoking and avoid second hand smoke, as smoking increases the risk of cardiovascular diseases.
About NEHEP
The NEHEP Diabetic Eye Disease (DED) Education Program increases awareness about DED among people with diabetes, overall eye health and share helpful tips to prevent vision loss. Their message during Diabetic Eye Disease Awareness Month is clear: "People with diabetes need to get an annual comprehensive dilated eye exam and keep their health on TRACK to prevent vision loss."
About Shofner Vision Center
Shofner Vision Center offers by far the most caring, responsible group of professionals who pay close attention to details to ensure every patient is given the best experience. Anyone with or without diabetes who experience the symptoms mentioned above should schedule an appointment for a comprehensive eye exam to determine if an eye disease such as diabetic retinopathy is present.
Shofner Vision Center offers treatment to reduce eye damage and improve vision. Dr. Shofner has been practicing in Tennessee since 1990 and has performed more than 10,000 cataract and ocular surgeries and more than 30,000 LASIK surgeries on Middle Tennessee eyes. Additional eye resources may be found on Shofner's website.