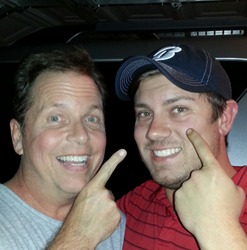 Dr. Shofner recently took care of my son Jeff, who is seeing great, 20/20 in one eye and 20/15 in the other, it's amazing.
Nashville, Tennessee (PRWEB) November 30, 2013
Dr. Stewart Shofner of Shofner Vision Center is experiencing a significant increase in LASIK vision correction surgery for patient's children. Shofner Vision Center has provided affordable eye care, LASIK/PRK and cataract surgery to patients residing in middle Tennessee and surrounding areas for over 21 years.
"It is so rewarding for parents to send their children to us for LASIK. We can offer them even better LASIK technology than their parents received, and at a more attractive price," says Dr. Shofner. "Also, getting so many patient referrals allows us to almost eliminate advertising. We pass the savings on the patients while still delivering quality care using the latest technologies," continued Dr. Shofner.
New Patients
Over 90% of Shofner patients are from patient referrals. "We give our patients their options and never pressure them to have surgery," explains Shofner. In addition to providing exceptional service to new patients, Shofner offers special LASIK pricing to military, fire fighters, law enforcement and their families.
2nd Generation LASIK Testimonial
Dr. Shofner performed LASIK vision correction surgery on radio personality Woody Wood from 107.5 The River several years ago, as well as his colleague and radio personality, Jim Chandler. Most recently Dr. Shofner performed Custom "3D" LASIK on Woody's son, Jeff and have expressed positive results. "Woody's son, Jeff sees better than 20/20," says Jim Chandler.
"Dr. Shofner took care of our eyes many years ago and recently took care of my son Jeff, who is seeing great; 20/20 in one eye and 20/15 in the other. It's amazing," says Woody Wood. "Shofner Vision Center, the people there are really great because they are not sales people for the procedure, what they are is information givers. They take away those fears by giving you the facts about what actually happens in the process of getting LASIK and Dr. Shofner...you can trust him," says Jim Chandler.
About Dr. Stewart Shofner
Recognized by his peers as one of the most outstanding Board Certified Ophthalmologist in the United States, Dr. Stewart Shofner has performed over 30,000 LASIK procedures and 10,000 ocular surgeries. His practice continues to grow…mostly from patient referrals. Dr. Shofner has outstanding credentials to deliver the best care and surgical outcomes for patients. Dr. Shofner is also a member of American Medical Association (AMA), American Academy of Ophthalmology (AAO), and Shofner Vision Center is a member of the Better Business Bureau of Nashville, TN (BBB).
About Shofner Vision Center
Shofner Vision Center provides comprehensive vision care services including LASIK/PRK vision correction, cataract surgery and evaporative dry eye treatment. Additionally, Renowned Eye Surgeon Dr. Shofner provides diagnosis and treatment for other vision issues. Shofner Vision Center utilizes the most advanced, proven technology to deliver the best solutions safely and reliably.
Shofner Vision Center also offers a complimentary LASIK evaluation in a no pressure, no fear environment. Patients can schedule online or call 615-340-4733.