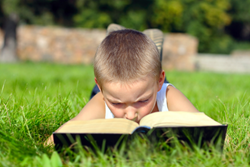 Amblyopia is the most common cause of visual impairment among children.
Nashville, TN (PRWEB) December 31, 2015
Dr. Stewart Shofner of Shofner Vision Center in Nashville shares a new study released by the American Academy of Ophthalmology (AAO) reporting the use of new electronic programmable glasses are just as effective as using eye patches to treat lazy eye. According to the National Eye Institute (NEI), amblyopia is the most common cause of visual impairment among children, affecting approximately 2 to 3 out of every 100 children.
About Lazy Eye
Amblyopia also called "lazy eye" is a result of decreased vision in an eye that otherwise appears normal, or out of proportion to associated structural problems of the eye. Whenever the brain does not receive visual signals from an eye for a long period of time, there is a risk of amblyopia. The cause of amblyopia is within the brain and often occurs during early childhood.
Only a comprehensive eye examination can diagnose amblyopia. It occurs in only one eye, allowing the "good" eye to take over leaving the child unaware of his/her condition. Dr. Shofner recommends children should have their eyes examined at about six months, age three and again before he or she enters school. "Treating lazy eye can be a challenge, as not all children (or adults) are comfortable with wearing eye patches or receiving medicated eye drops," says Dr. Shofner.
Treatments vary, but typically an ophthalmologist will cover the eye partial or full-time to stimulate vision in the amblyopic eye. Other treatments may include medicated eye drops, corrective lenses, prisms and surgery. "New technological advances are very exciting for our industry and provides Pediatric Ophthalmologists with an easier way to treat children with this eye condition," says Dr. Shofner.
About the Study
Researchers at Glick Eye Institute at Indiana University tested the effectiveness of the digital glasses compared to patching and found them comparable. They recruited 33 subjects with lazy eye between age 3 and 8 who wore spectacles to correct their vision. One group wore an adhesive patch for two hours daily. The other wore Amblyz™ occlusion glasses for 4 hours daily. In the study, the lens over the eye with better vision switched from clear to opaque every 30 seconds. After three months, both groups of children showed the same amount of improvement in the lazy eye, gaining two lines on a reading chart.
Dr. Shofner agrees that early detection and treatment of amblyopia and significantly unequal refractive errors can help to reduce the chances of one eye becoming amblyopic. For questions about Amblyopia contact your local vision center that focuses on pediatric or early eye disease diagnosis. The American Optometric Association (AOA) website is also a good resource for additional information about amblyopia.
About Dr. Stewart Shofner
Dr. Stewart Shofner is a graduate of Harvard University who completed his Medical Residency at Yale following medical school at the University of Virginia. He participated in the first Excimer Laser procedures while at Corneal Fellow, LSU. Dr. Shofner has performed over 30,000 LASIK/PRK procedures and 10,000 ocular surgeries in Middle Tennessee and is recognized by his peers as one of the outstanding Board Certified Ophthalmologist and LASIK and Cataract eye surgeons in the United States.
About Shofner Vision Center
Located in the heart of Nashville, Tennessee, Shofner Vision Center offers comprehensive eye care in a No Fear – No Pressure environment. We accept most insurance plans and in the process of adding additional plans to our list. If you have sudden changes in your vision or if you have general eye health questions, contact Shofner Vision Center at (615) 340-4733.