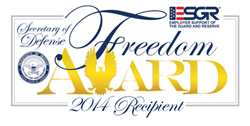 I am truly honored and humbled to receive this recognition.
Nashville, TN (PRWEB) September 26, 2014
Shofner Vision Center has been named one of 15 recipients of the Secretary Defense Employer Support Freedom Award from the Employer Support of the Guard and Reserve (ESGR) of the Department of Defense. The award is the highest honor given by the U.S. government to employers for their exceptional support of employees who serve in the National Guard and Reserve.
"I am truly honored and humbled to receive this recognition," says Dr. Stewart Shofner of Shofner Vision Center. Shofner continues, "It is our duty to be supportive of our military, active duty service members and those serving in the National Guard or Reserve."
Air Force Reserve, Lt. Col. Kevin Johnson from the 10th Aeromedical Squadron at the U.S. Air Force Academy, nominated Shofner Vision Center for Dr. Shofner's ongoing efforts in supporting our Military. Shofner Vision Center created the United Military Support (UMS) program to challenge local businesses to jointly fund community non-profit organizations that aid military members. Dr. Johnson says, "Our nation's Military Reserves are very strong because employers like Dr. Shofner willingly walk the extra mile to support us while we are deployed or serving our reserve duty. As a member of the Air Force Reserves, I am very grateful."
Dr. Shofner and his staff are all very excited about the award ceremony scheduled at the Pentagon on September 26, 2014. Dr. Shofner says, "It will be a honor for our practice to receive the Freedom Award directly from the President and the Secretary of Defense. However, the true heroes are those people who sacrifice so much in order to serve in our Military."
Freedom Award
In April 2014, Employer Support of the Guard and Reserve (ESGR), a Department of Defense (DoD) office, selected 30 employers as finalists for the 2014 Secretary of Defense Employer Support Freedom Award. The award is the DoD's highest recognition given to employers for exceptional support of National Guard and Reserve employees.
"These 30 employers have gone above and beyond to provide our military men and women as well as their families the absolute best support possible," said ESGR Executive Director Ronald G. Young. "An employer's support is just as critical as a military member's family support and we are proud to have a way to recognize these outstanding employers through this program."
About Shofner Vision Center
Located in the heart of downtown Nashville, Shofner Vision Center has provided affordable and the highest quality of vision care for over 22 years. Shofner Vision Center is comprised of two stellar doctors and a dedicated staff of professionals that strive to offer patients the best experience possible.
Dr. Stewart Shofner is one of the most prominent eye surgeons in the country who has performed more than 30,000 LASIK vision correction surgeries and 10,000 ocular surgeries in Middle Tennessee. Dr. Stewart Shofner's father was a highly decorated Marine General who participated in more combat than any Marine officer in WWII. He also led the one of the few successful escape from a Japanese prisoner of war camp.
Shofner Vision Center's Eye Specialist, Dr. Kevin Johnson is active in the US Air Force Reserves. He is a graduate of the U.S. Air Force F-16 "Top Eye" program, and participated in the Air Force evaluation of PRK/LASIK for Air Force Academy Cadets and Pilots. Both Dr. Shofner and Dr. Johnson are extremely committed to giving back to our Servicemen and Servicewomen and their families who sacrifice so much for our country.
Services for Military
Shofner Vision Center offers special LASIK programs for Wounded Warriors providing free LASIK for any Serviceman or Servicewoman who has trouble with glasses or contacts because of a lost limb while in combat. Dr. Shofner also offers very affordable vision correction surgery prices for Veterans, Reservists, and Active Duty Serviceman and Servicewomen and their families.
###
The Freedom Award was instituted in 1996 under the auspices of ESGR to recognize exceptional support from the employer community. In the years since, 190 employers have been honored with the award. To learn more about ESGR, visit http://www.ESGR.mil. For more information about the Freedom Award and this year's recipients, visit http://www.FreedomAward.mil under the Media Tab in the Press Releases section.