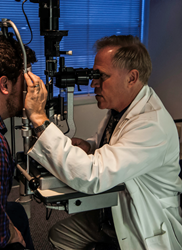 Eye diseases become more common as we age.
Nashville, TN (PRWEB) March 08, 2016
Organized by the American Optometric Association (AOA), the main focus of "Save Your Vision" Month is to encourage more people to go for regular eye exams. Dr. Stewart Shofner of Shofner Vision Center realizes some people may need a few reminders of how they can incorporate healthy habits to protect their vision.
According to the National Eye Institute (NEI), an estimated 43 million Americans will face vision loss or blindness from age-related eye diseases by 2020. "With smart phones, laptops and other technological devices becoming an everyday part of people's lives, eye strain and eye fatigue is becoming more common," says Dr. Shofner. Dr. Shofner recommend that adults follow these sight-saving habits:
1) Eye Exam – It's not uncommon for adults to skip their annual physicals or eye exams when no symptoms or issues are known. "However, eye diseases become more common as we age," says Dr. Shofner. By getting a comprehensive eye exam, and following through with regular eye exams based on the recommendation of your doctor, it can be the difference in saving your vision or preventing further vision loss.
During a comprehensive eye exam, an ophthalmologist will check more than how well a patient can see. He or she will also check for signs of common age-related eye diseases such as glaucoma and macular degeneration. If a disease is identified, an ophthalmologist can track it and provide treatment to help prevent it from getting worse. After receiving a baseline comprehensive eye exam at age 40, the AAO recommends adults should have comprehensive exams:
a. Every two to four years until age 54
b. Every one to three years until age 64
c. By age 65, every one to two years, or as recommended by your ophthalmologist.
2) Butts No More –It is imperative for those who smoke to quit smoking. Quitting is one of the best investments one can make in to improve eye health. Smoking increases risk for developing cataracts and age-related macular degeneration. It also raises the risks for cardiovascular diseases that indirectly influence overall eye health. Smoking can also worsen dry eye.
3) Healthy Diet - Studies have shown that some foods are good for eye health as well as general health. These foods include citrus fruits, vegetable oils, dark green leafy greens and cold water fish such as salmon and tuna. Taking a daily multivitamin and mineral supplement can help fill in the nutritional gaps in a less-than-optimal diet and may help prevent eye diseases such as macular degeneration and cataracts.
4) Take Breaks – To date, no scientific-based study has proven new technologies, such as using a smartphone is directly linked to causing vision problems; however, they are linked to eyestrain. Continuous computer use can be counterproductive if eyestrain occurs. It is recommended that adults take breaks every 20 minutes; look at least 20 feet away for 20 seconds and blink regularly to prevent dry, irritated eyes.
5) Physical Wellness - High blood pressure, cholesterol and blood glucose (sugar) levels all increase the risk of vision loss from an eye disease. Watch these numbers and try to keep them under control. Daily exercise, even if it's only 30 minutes of walking may help prevent weight-related health issues.
Dr. Shofner suggests patients should consult with their eye doctor and primary care physician before starting an exercise routine or taking supplements, especially for those that are pregnant, nursing or taking blood thinners (anti-coagulants).
About the American Academy of Ophthalmology
The American Academy of Ophthalmology, headquartered in San Francisco, is the world's largest association of eye physicians and surgeons, serving more than 32,000 members worldwide. The Academy's mission is to advance the lifelong learning and professional interests of ophthalmologists to ensure that the public can obtain the best possible eye care. For more information, visit http://www.aao.org.
About Shofner Vision Center
Located in the heart of downtown Nashville, Shofner Vision Center has provided affordable and the highest quality of vision care for over 24 years. Our staff is comprised of trained professionals who care about you and your vision.
About Dr. Stewart Shofner
Dr. Stewart Shofner is a graduate of Harvard University who completed his Medical Residency at Yale following medical school at the University of Virginia. He participated in the first Excimer Laser procedures while at Corneal Fellow, LSU. Dr. Shofner has performed over 30,000 LASIK/PRK procedures and 10,000 ocular surgeries in Middle Tennessee and is recognized by his peers as one of the most outstanding Board Certified Ophthalmologist in the United States. Dr. Shofner recommends anyone experiencing vision impairment to contact their local ophthalmologist or contact Shofner Vision Center for a comprehensive eye exam.