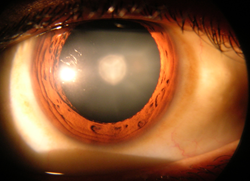 Exposure to ultraviolet light from the sun is a suspected cause for other eye conditions and vision problems.
Nashville, TN (PRWEB) June 28, 2014
Renowned Ophthalmologist, Dr. Stewart Shofner of Shofner Vision Center has performed over 10,000 cataract and ocular surgeries on middle Tennessee's eyes. Although most everyone is well aware that sun exposure causes skin damage, very few people are aware that ultraviolet rays can cause damage to the eyes. A new study recently linked chronic sunlight exposure to increasing the risk of cataract development. "Exposure to ultraviolet light from the sun is a suspected cause for other eye conditions and vision problems," says Dr. Shofner. "This is another reason why regular eye exams are important especially for people who are regularly exposed to bright sunlight."
About the Study
Funded in part by the National Eye Institute (NEI), the study confirms a the link between the sun's damaging rays and a process called "oxidative stress." Led by researchers at Case Western Reserve University in Cleveland, Ohio, the study suggests that UV light may provide an answer. The study reveals that UV light can damage lens proteins in a distinct way (called glycation) that is typically seen in cataract and in cells damaged by oxidative stress. In other words, UV light can substitute for oxygen to trigger harmful oxidative reactions in the lens.
About Cataracts
A cataract is a clouding of the normally clear lens of the eye. It can be compared to a window that is frosted or yellowed. How quickly the cataract develops varies among individuals and may even be different between the two eyes. Most age-related cataracts progress gradually over a period of years. Other cataracts, especially in younger people and people with diabetes, may progress rapidly over a short time. It is not possible to predict exactly how fast cataracts will develop any given person. Other than age, genetics, diabetes, radiation, and medication may also cause cataracts and as this new research reveals, UV rays may also contribute to developing cataracts.
Cataract Symptoms
Most patients 45 years and older report having difficulty seeing at night or reading up close, but other common cataract symptoms may include:

Colors seem yellowish
Sensitivity to light such as halo or glare
Double vision in one eye
Blurred vision
Tips to Reduce Cataract Development
Especially during the summer season, Dr. Shofner recommends wearing sunglasses that wrap around and offer UVA and UVB protection. A brimmed hat may also help prevent ultraviolet rays from the face and eye area. Small steps in consuming a healthier diet, increasing physical activity and reducing stress are all great ways to prevent illness or disease. To maintain good vision, Dr. Shofner recommends scheduling a yearly eye exam to detect early cataracts and other vision problems. A complete list of cataract symptoms and additional resources may be found on Shofner Vision Center's website.
New Cataract Procedures
Many patients are excited to learn that cataract surgery can provide great vision without glasses and contacts. Cataract surgery is the only way a cataract can be removed. Cataract surgery is the safest, most commonly performed procedure in the U.S. The procedure is usually covered by health insurance. An eye surgeon uses a microscope to look at the eye. A small cut is made in the eye and the lens is removed. New lasers such as the Zeimer (used by Dr. Shofner) provide the patient with a very precise surgical procedure and improved vision. The old cloud lens covered by a cataract is replace by a new, artificial lens. New lenses such as the Crystalens provide immediate vision improvement for up close and distance vision without glasses or contacts. "This new technology is amazing and in many cases, allows a patient to see better than they have ever seen," says Dr. Shofner.
About Shofner Vision Center
Dr. Stewart Shofner at Shofner Vision Center, Nashville, TN specializes in Cataract Vision Correction Surgery. Dr. Shofner has performed over 10,000 cataract and ocular surgeries in Nashville/Middle Tennessee area. Dr. Shofner recommends anyone experiencing early cataract symptoms or vision problems should contact their local ophthalmologist or contact Shofner Vision Center for a "No Fear - No Pressure" exam to determine if cataract vision correction surgery is appropriate for vision improvement.