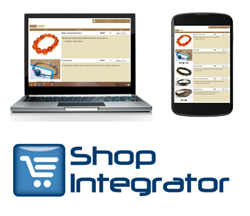 The ability to drop-in a complete online shop solution into any website in a matter of minutes means merchants are no longer limited to just using the online store available with their website hosting provider.
Harpenden, UK (PRWEB) January 31, 2014
Offering significant new features and capabilities, ShopIntegrator e-commerce announces the release of its latest shopping cart upgrade, Version 5.0.
ShopIntegrator is a hosted shopping cart solution offering advanced yet cost-effective e-commerce to SME's and home-based businesses. Its McAfee secure, PCI compliant e-commerce software is simple and quick to use. Online businesses selling both physical goods and digital downloads can easily start selling online from their website, without the complexity usually associated with installed e-commerce software solutions.
"The ability to drop-in a complete online shop solution into any website in a matter of minutes means merchants are no longer limited to just using the online store available with their website hosting provider," Simon Horton, Business Development Director, ShopIntegrator.
ShopIntegrator's latest upgrade Version 5.0 provides online businesses with exceptional new e-commerce features. Most significantly, Version 5.0 now empowers businesses with a way to add an entire online store into any HTML website template, CMS (Content Management System) or DIY site builder with a few easy to follow steps. A simple copy and paste approach inserts all the e-commerce features required for a complete, fully operational online store.
Other new e-commerce features included in Version 5.0 include the facility to upload and attach multiple images to products and services, enabling merchants to fully showcase their items from all angles. ShopIntegrator automatically creates a set of different sized, optimised thumbnail images for each uploaded product image. This removes the need to pre-process product images of different dimensions before they can be used in an online store and also provides customers with a thumbnail image of the item in their shopping cart checkout.
As part of this latest upgrade a 'Shop Control Bar' e-commerce add-in is now available for merchants utilising ShopIntegrator's existing range of standalone e-commerce buttons and e-commerce widgets. This new addition to the store builder tool-kit gives merchants an add-in which combines several existing features in a single e-commerce widget containing; shopping bag icon, quantity of items, total cost of items, view cart/basket link, currency control and checkout link.
Version 5.0 also includes improved store admin product management with the introduction of a point and click 'What You See Is What You Get' (WYSIWYG) product detail editor. Merchants can now create HTML and rich formatted product detail text with ease.
ShopIntegrator is easily integrated into any website platform and offers online businesses a choice of pre-integrated payment processors to connect their online store with, including Sage Pay, First Data Merchant Solutions, WorldPay, eWAY, Authipay, Authorize.Net, PayPal and CardSave. ShopIntegrator Version 5.0 offers merchants a complete, easy to integrate online store for any online business and is ideal for start-ups or merchants looking to improve upon their existing online shop with a shopping cart solution offering more advanced ecommerce features.
For further information on ShopIntegrator Version 5.0 and its free 30 day trial visit ShopIntegrator.
About ShopIntegrator:
Established in 2004, ShopIntegrator provides SMEs with secure, easy-to-use hosted shopping cart software. ShopIntegrator's competitive pricing and straightforward installation process allows merchants to turn their website into an online store within a matter of minutes. McAfee Secure and PCI compliant, ShopIntegrator's shopping cart is compatible with most websites so there is no need to change web hosting companies.
ShopIntegrator is a powerful e-commerce and m-commerce checkout. There is no software to install and its uncomplicated, no cost set-up requires little technical knowledge and can be added into HTML website templates or DIY site builders such as Weebly, Moonfruit, Yola, Webnode, 1&1 MyWebsite, 123-Reg, Sitejam, SquareSpace, Webs and Vistaprint. ShopIntegrator also has dedicated plug-ins to simplify adding ecommerce into popular Content Management Systems (CMS) such as WordPress, Drupal and DotNetNuke (DNN).