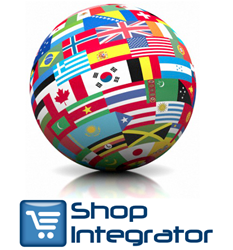 Multilingual e-commerce reduces cart abandonment because it avoids a shopper encountering language difficulties in the checkout, which can halt their progress through to order completion.
Harpenden, UK (PRWEB) February 28, 2014
Merchants can use ShopIntegrator's e-commerce solution to add a multilingual online store into any website, with a choice of 7 e-commerce storefront languages.
Multilingual shopping cart software appeals to a wider International marketplace increasing the potential for International orders. ShopIntegrator's e-commerce solution allows merchants to run their online storefront in their native language, as well as selling to a global marketplace of foreign language shoppers.
Current estimates count the total number of English speakers worldwide at over 760 million and the total number of Spanish speakers at over 460 million. English and Spanish are the 2nd and 3rd most spoken languages on the planet. The combined total estimated audience for all 7 supported e-commerce languages is over 1.7 billion people.
ShopIntegrator's multi-language e-commerce software supports the following languages; English, French/Français, German/Deutsch, Italian/Italiano, Portuguese (Brazil)/Português (Brasil), Spanish/Español and Swedish/Svenska.
The new multilingual capabilities complement the existing multi-currency capabilities of the shopping cart software.
Online shops offering a choice of language increase the chance of International customers completing the checkout when the shopper is able to choose their preferred language. Multilingual e-commerce reduces cart abandonment because it avoids a shopper encountering language difficulties in the checkout, which can halt their progress through to order completion.
A consistent language experience is maintained for shoppers across all customer facing aspects of the online shop, the online store text and e-commerce buttons, the shopping cart checkout and payment processing, through to the after order email receipts, invoices and order completion web pages.
The shopper's language choice in the shopping cart software is passed into the third-party payment gateway to preset the language used for the secure online payment pages. This ensures a shopper receives a seamless multilingual checkout experience from start-to-finish.
A merchant will be better placed to attract website visitors from other countries when their website is translated into the native language of their shoppers. The ShopIntegrator e-commerce software allows merchants to use the same online store shopping cart account when creating multilingual versions of their website. The same shopping cart account can be set to display in the matching language for each of the merchant's websites. When the shopper arrives on a particular language version of a business's website, the online store displays in the matching language of the merchant's website or web page which it has been added into. This avoids the need for the shopper to make a language selection for their online shopping experience, and avoids the need for the merchant to operate a different online store account for each language.
For further information on the ShopIntegrator shopping cart software and its free 30 day trial, visit ShopIntegrator.
About ShopIntegrator:
Established in 2004, ShopIntegrator provides SMEs with secure, easy-to-use hosted shopping cart software. ShopIntegrator's competitive pricing and straightforward installation process allows merchants to turn their website into an online store within a matter of minutes. McAfee Secure and PCI compliant, ShopIntegrator's shopping cart is compatible with most websites so there is no need to change web hosting companies.
ShopIntegrator is a powerful e-commerce and m-commerce checkout. There is no software to install and its uncomplicated, no cost set-up requires little technical knowledge and can be added into HTML website templates or DIY site builders such as Weebly, Moonfruit, Yola, Webnode, 1&1 MyWebsite, 123-Reg, Sitejam, Webs, SquareSpace and Vistaprint. ShopIntegrator also has dedicated plug-ins to simplify adding ecommerce into popular Content Management Systems (CMS) such as WordPress, Drupal and DotNetNuke (DNN).