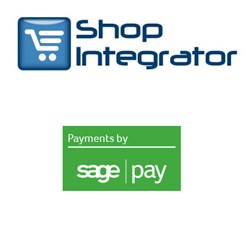 Set surcharges based of specific card types for different payment types or even for different payment types from the same provider, such as a MasterCard credit card having no surcharge but MasterCard credit card having a surcharge fee.
Harpenden, UK (PRWEB) December 18, 2013
ShopIntegrator is an approved Sage Pay Partner shopping cart solution and has upgraded its Sage Pay checkout payment gateway protocol to version 3.0, ensuring its Sage Pay merchants stay at the forefront of ecommerce innovation for their online shop.
Sage Pay merchants are now able to pass on their own variable surcharge for processing payments in different currencies, and for card payments from different card providers such as MasterCard, Visa and American Express. The new optional surcharges may even have different surcharge fees applied to various card types from the same provider, such as a MasterCard debit card compared to a shopper choosing to pay with a MasterCard credit card.
The various card surcharges are presented to the shopper at the point they choose their payment method so the shopper has the option to pick a payment type that has the lowest or zero surcharge fee if available. The card processing surcharge is added onto the total transaction value charged to the shopper. ShopIntegrator automatically updates the original shopping cart order details to include the additional surcharge fee amount added at the Sage Pay payment stage. Completed order emails sent to the customer from ShopIntegrator, along with the generated order invoice document include the additional card processing surcharge fee and show the amended total order cost.
ShopIntegrator merchants looking to expand their online store's operation into European markets are now able to take advantage of Sage Pay's improved European payment capabilities. Sage Pay merchants upgrading to Sage Pay's local European merchant account are able to handle European payments with new bank-to-bank payment methods available for shoppers located in Germany, Netherlands and Austria.
ShopIntegrator's Sage Pay version 3.0 compatible shopping cart software brings merchants other advantages for their online store, such as better 3D Secure status results, improved real-time fraud checks, and for merchants operating multiple website, the ability to report on which transactions originated from which website.
A free 30-day shopping cart trial is available for businesses to try ShopIntegrator's ecommerce solution.
About ShopIntegrator:
Established in 2004, ShopIntegrator provides SMEs with secure, easy-to-use hosted shopping cart software. ShopIntegrator's competitive pricing and straightforward installation process allows merchants to turn their website into an online store within a matter of minutes. McAfee Secure and PCI compliant, ShopIntegrator's shopping cart is compatible with most websites so there is no need to change web hosting companies.
ShopIntegrator is a powerful e-commerce and m-commerce checkout. There is no software to install and its uncomplicated, no cost set-up requires little technical knowledge and can be added into HTML website templates or DIY site builders such as Weebly, Moonfruit, Yola, Webnode, 1&1 MyWebsite, Basekit, Webs and Vistaprint. ShopIntegrator also has dedicated plug-ins to simplify adding ecommerce into popular Content Management Systems (CMS) such as WordPress, Drupal and DotNetNuke (DNN).