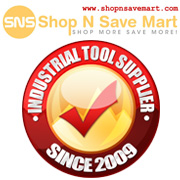 Industrial Diamond Tools Supplier - Get Tools Overnight For Zero Shipping Cost Within USA. A Complete Solution Provider For Your Diamond Tools Supply & Needs.
Santa Clara Ca (PRWEB) March 04, 2015
Shop N Save Mart, the globally acclaimed supplier of diamond polishing grinding cutting tools, proudly announces the formal launch of their new, mobile-friendly website. Since the company's inception in 2009, Shop N Save Mart has emerged as a trusted supplier for Diamond Polishing Pads, Diamond Hole Saw Bit, Diamond Cup Grinding Wheels, Diamond Hand Polishing Pads and many other similar tools. The improved, mobile friendly website of Shop N Save Mart offers a plethora of advanced e-commerce features that will certainly make life easier for their global pool of shoppers. To celebrate the launch of the company's new website, Shop N Save is also offering a series of additional benefits to their shoppers.
Over the years, online shopping has emerged as the world's most preferred way of buying the products they need. With the ever increasing popularity of Smartphones in the recent years, a large number of buyers now use their mobile devices for online purchase. In this changing business environment, it has become extremely important for organizations to create a mobile-compatible website.
The improved Shop N Save Mart website has been built with a responsive web design and intuitive workflow to ensure ease of use. Now, all visitors to this website will be able to enjoy the benefits of a series of useful features including order tracking, historical invoice printing, order history status, wish list, product comparison, gift certificates, and many more. Shop N Save Mart has decided to offer a lucrative, 30% discount on their entire inventory including 4" Wet Diamond Polishing Pads for a limited period, to celebrate the launch of their improved website. The company is also offering no-cost shipping benefit to their customers across the globe. As part of this offer, the US-based customers of the company will receive no-cost overnight shipping above $150 order value.
After spending six years in the industry, Shop N Save Mart is now a trusted name in industrial diamond tool supply. A team of highly motivated employees, exemplary focus on customer service, and adherence to best industry standards has contributed heavily to the company's success as a supplier of diamond cutting tools.
Announcing the launch of the company's Mobile friendly website, the President of Shop N Save Mart Sumit K Suman said, "The team is extremely happy to announce that our improved, Mobile compatible website has just gone live. The website is packed with useful features that will make shopping fun with us. The new website also has tons of money saving deals. Visit the website today and feel the difference."
About Shop N Save Mart:
Shop N Save Mart is a renowned industrial diamond tools supply company and the authorized retailer for Stadea tools. A custom B2B service provider, the organization provides a holistic solution for stone polishing, cutting, grinding, restoration, and diamond tools procurement to stone, granite and concrete manufacturers, fabricators, etc. Their professional quality tools offering, competitive pricing, exemplary focus on customer service, B2B friendly online portal, no-cost shipping, zero-cost overnight shipping, fast shipping, delayed time zone shipping location, cost-effective deals, discounts, and other bargains makes them one of the best partners for all diamond tool related needs and supply.